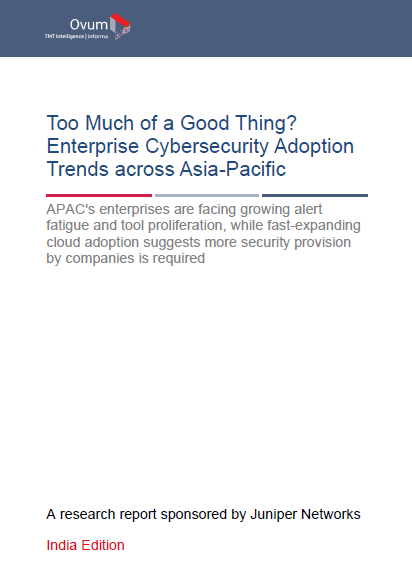 As the number and variety of threats mushroom, an Ovum survey has found that security teams have become physically unable to respond in an appropriate way to the ones that actually matter, with 50% of respondents in India saying they deal with more than 50 alerts each day. Shockingly, for 6% of organizations, that figure rises to between 100 and 1,000 threats a day.
The solution? Ovum believes that security decision-makers should invest in centralized management capabilities, enabling them to control the disparate security tools in their infrastructure, and address the challenge of prioritizing the volumes of daily alerts they receive.
Download this report to find out what else Ovum has discovered about security practices in India.
By clicking Submit, I agree to the use of my personal information in accordance with Juniper's Privacy Policy. I understand and acknowledge that my information may be used for electronic marketing activities and other purposes, and may be transferred for processing outside my country of residence, where standards of data protection may be different.