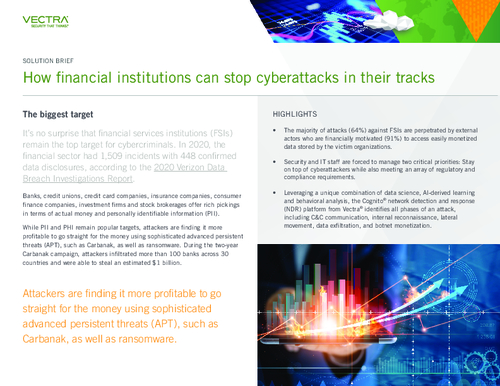 Financial services institutions (FSIs) are a top target for cybercriminals and will continue to remain so due to the actual money involved and amount of personally identifiable information (PII). The majority of attacks (64%) against FSIs are perpetrated by external actors who are financially motivated (91%) to access easily monetized data stored by the victim organizations.
With the rapidly changing nature of attacks, and financial regulations, security and IT staff are forced to manage two critical priorities:
Stay on top of cyberattackers;
Meet an array of regulatory and compliance requirements.
The Vectra Cognito network detection and response (NDR) platform provides FSIs the ability to detect and respond to in progress attacks, streamline operations, and address compliance challenges. Download this brief to find out how Vectra can help FSIs find threats BEFORE they inflict damage.