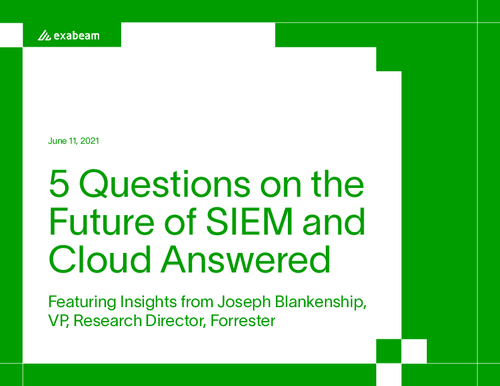 Exabeam recently hosted a webcast "A Discussion of Security Analytics Market Trends with Forrester Research" featuring guest speaker, Forrester VP, Research Director Joseph Blankenship to answer questions on the future of SIEM and cloud.
This e-book offer answers to five of the most-asked questions about current SIEM technologies and cloud security, such as:
You've said security information and event management (SIEM) technology is becoming outdated and less effective. How so?
Have analytics assumed primacy when it comes to detecting treats? Are all analytics created equal?
What do security analytics vendors need to do to meet customer needs for customization?
The hard part is operationalizing MITRE into the day-to-day workflow. Do you agree and do you have advice for folks?
What are the benefits of moving security to the cloud? Why have security operations lagged other functions?