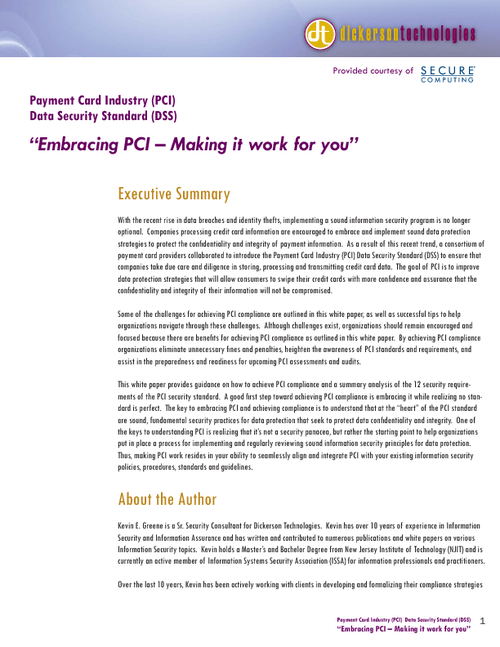 With the recent rise in data breaches and identity thefts, implementing a sound information security program is no longer optional. Companies processing credit card information are encouraged to embrace and implement sound data protection strategies to protect the confidentiality and integrity of payment information. As a result of this recent trend, a consortium of payment card providers collaborated to introduce the Payment Card Industry (PCI) Data Security Standard (DSS) to ensure that companies take due care and diligence in storing, processing and transmitting credit card data. The goal of PCI is to improve data protection strategies that will allow consumers to swipe their credit cards with more confidence and assurance that the confidentiality and integrity of their information will not be compromised.
Some of the challenges for achieving PCI compliance are outlined in this white paper, as well as successful tips to help organizations navigate through these challenges. Although challenges exist, organizations should remain encouraged and focused because there are benefits for achieving PCI compliance as outlined in this white paper. By achieving PCI compliance organizations eliminate unnecessary fines and penalties, heighten the awareness of PCI standards and requirements, and assist in the preparedness and readiness for upcoming PCI assessments and audits.
This white paper provides guidance on how to achieve PCI compliance and a summary analysis of the 12 security requirements of the PCI security standard.