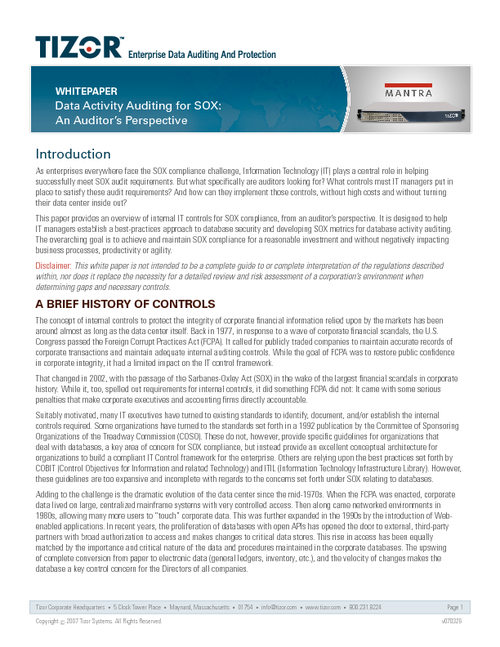 As the Sarbanes Oxley (SOX) compliance challenge continues for financial services organizations, automated data auditing has become a priority. But how can you design data auditing systems and processes if you're not sure what auditors are looking? Or what controls you need in place to satisfy requirements or how to implement those controls without incurring high costs?
Download the latest Tizor White Paper, Data Activity Auditing for SOX: An Auditor's Perspective, and learn the answers to these crucial questions:
• How do I know where regulated data is stored?
• How do I audit data and data activity based on specific regulatory criteria?
• How do I track privileged user activity?
• How do I generate reports of data activities for auditors?
• How can I be alerted in real-time when potential non-compliant activity happens?
• How can I maintain an easily searchable audit trail?
The smartest compliance solution is comprehensive, cost-effective, and attuned equally to database information and unstructured data. It will track regulated activities intelligently, enable administrators to create flexible policies quickly, scale effortlessly, and provide thorough audit trails for all relevant activities. Read this informative and practical guide to learn what auditors are looking for, and how to ensure that your data center is ready and compliant.