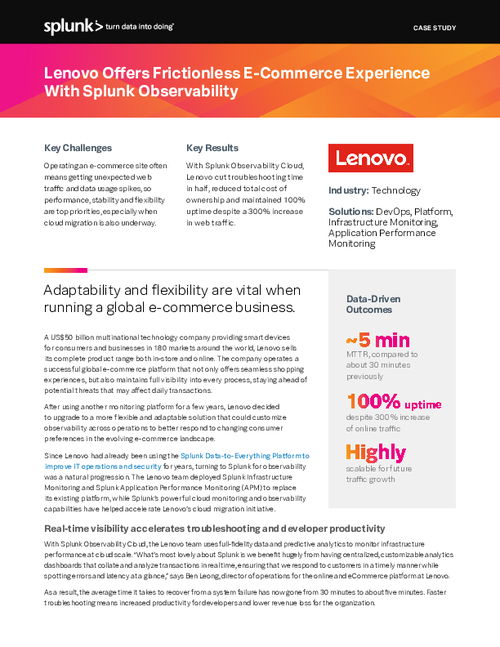 A US$50 billion multinational technology company providing smart devices for consumers and businesses in 180 markets around the world, Lenovo sells its complete product range both in-store and online. The company operates a successful global e-commerce platform that not only offers seamless shopping experiences, but also maintains full visibility into every process, staying ahead of potential threats that may affect daily transactions.
After using another monitoring platform for a few years, Lenovo decided to upgrade to a more flexible and adaptable solution that could customize observability across operations to better respond to changing consumer preferences in the evolving e-commerce landscape.
Since Lenovo had already been using the Splunk Data-to-Everything Platform to improve IT operations and security for years, turning to Splunk for observability was a natural progression. The Lenovo team deployed Splunk Infrastructure Monitoring and Splunk Application Performance Monitoring (APM) to replace its existing platform, while Splunk's powerful cloud monitoring and observability capabilities have helped accelerate Lenovo's cloud migration initiative.