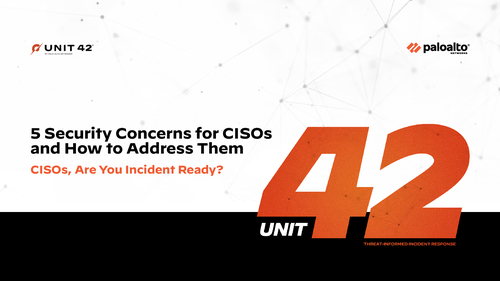 As a CISO, your mission is to keep your organization ready to handle rising threats and build a strong security culture, but staying ahead of threat actors and risks can be a challenge.
Understanding the current threat landscape is crucial to preparing for today's most significant risks. To help you stay ahead, "5 Security Concerns for CISOs and How to Address Them" uses Unit 42's first-hand case experience and threat intelligence to provide valuable insights every CISO needs to know, including:
The most prevalent attack methods and techniques that allowed attackers to damage and exploit organizations this year. .
Five core areas of concern for organizations, including why and how these areas are exploited using data and statistics from recent case investigations. .
Actionable recommendations you can put in place immediately to safeguard against the key areas of risk.