The Faces of Fraud: How to Counter 2011's Biggest Threats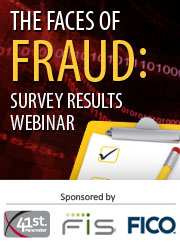 Payment card breaches, check fraud and phishing/vishing - these are the most common forms of fraud striking banking institutions today. Yet, what form of fraud do institutions feel most prepared to prevent? Money laundering.

This is just one of the sobering results from the new Faces of Fraud: Fighting Back study conducted by BankInfoSecurity.com. Join a distinguished panel of fraud experts for an exclusive first look at the eye-opening survey results and how institutions can act upon them, including:
How to ensure you're prepared to defend against the most common fraud threats;
Bridging the institutional silos that stand in the way of fighting fraud;
How to improve employee and customer awareness, ensuring that fraud prevention is a shared responsibility.