Cryptocurrency Fraud , Fraud Management & Cybercrime
US Attorney's Office Task Force to Trace Missing FTX Funds
New York District Hopes to Recover Missing Assets, Probe Crypto Firm's Collapse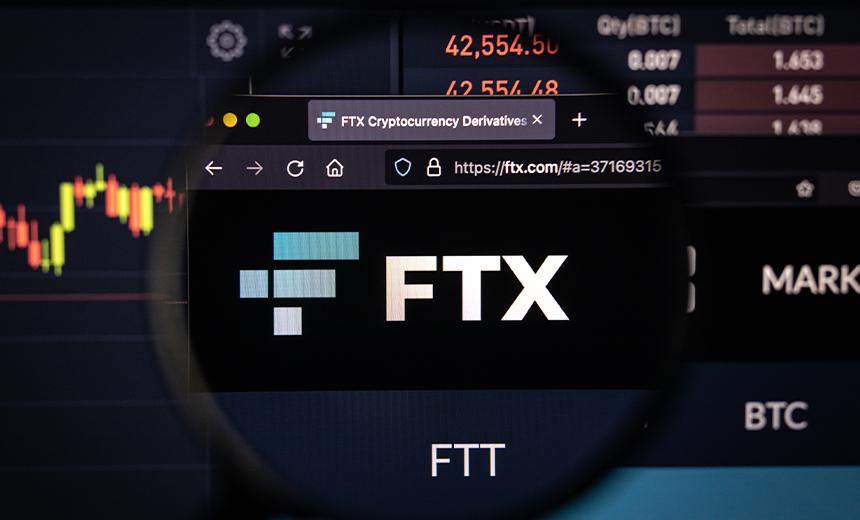 Federal prosecutors have established a task force to trace and recover customer funds missing from FTX and manage investigations related to the cryptocurrency firm's collapse.
See Also: OnDemand | Understanding Human Behavior: Tackling Retail's ATO & Fraud Prevention Challenge
The U.S. Attorney's Office for the Southern District of New York's task force will "ensure that this urgent work continues, powered by all of SDNY's resources and expertise until justice is done," says U.S. Attorney Damian Williams, the federal prosecutor in the FTX case that led to the arrest of founder Sam Bankman-Fried, according to media reports.
A unit of the task force responsible for probing the collapse comprises senior prosecutors with expertise in securities and commodities fraud, public corruption, money laundering and transnational crime enterprise units. A separate unit with "asset forfeiture and cyber capabilities" will focus on tracing and recovering missing customer funds.
FTX, under new CEO John Ray's management, has already put a task force in place to carry out similar activities. It is unclear whether the company's team will join forces with the government executives. FTX also engaged financial advisory company AlixPartners in December to trace the missing funds, The Wall Street Journal reported.
A week ago, the U.S. Department of Justice announced investigations into the theft of nearly $400 million from FTX. The crypto exchange disclosed in November - the day after it filed for Chapter 11 bankruptcy - that the theft was linked to "unauthorized access" of FTX's systems.
An unidentified hacker using the moniker "accounts drainer" stole the funds, FTX acknowledged on Nov. 12. The company said it is working to "secure all assets, wherever located," according to a statement published by FTX U.S. General Counsel Ryne Miller, attributed to Ray.
Separately, on Dec. 29, the Securities Commission of the Bahamas took control of digital assets worth $3.5 billion from FTX's local subsidiary on Nov. 12. The commission moved the funds from FTX Digital Markets as they were at risk of "imminent dissipation" due to the threats against the exchange, including hack attacks, the regulator said.
But the commission didn't address whether the activity attributed to "accounts drainer" had been part of the agency's action or carried out by an unrelated third party. Speculation that the regulator might be behind the "accounts drainer" intensified after FTX lawyers on Nov. 17 filed an emergency court motion that said Bahamian regulators had gained "unauthorized access" to FTX's digital assets.
The criminal probe into the "accounts drainer" case is separate from the swath of charges filed against Bankman-Fried, Bloomberg reports. The DOJ's National Cryptocurrency Enforcement Team is leading the probe, with support from Manhattan federal prosecutors.
Bankman-Fried was arrested in the Bahamas after a U.S. federal grand jury issued an eight-count indictment charging him with wire fraud, commodities fraud, securities fraud, money laundering and violating campaign finance laws.
Bankman-Fried was transferred to FBI custody after he waived his right to an extradition hearing. He made his first appearance in New York federal court on Dec. 22 and was released on a $250 million bail. The former cryptocurrency billionaire on Tuesday entered a "not guilty" plea in Manhattan federal district court at his arraignment. District Judge Lewis A. Kaplan of the Southern District of New York reportedly set a tentative Oct. 2 trial date for the bankrupt cryptocurrency trading platform founder. If found guilty, the crypto wunderkind faces up to 115 years of imprisonment (see: Sam Bankman-Fried Pleads 'Not Guilty' in Criminal Case).
Prosecutors have also obtained plea agreements from two Bankman-Fried associates, former FTX CTO and co-founder Gary Wang and Caroline Ellison, CEO of FTX-affiliated Alameda Research. Ellison faces up to 110 years of imprisonment after she pleaded guilty to seven charges, including two counts of wire fraud, two counts of conspiracy to commit wire fraud, conspiracy to commit commodities fraud, securities fraud and money laundering. Wang faces up to 50 years in prison after he pleaded guilty to the charges of conspiracy to commit securities fraud, commodities fraud and wire fraud. Released on a $250,000 bond, Ellison and Wang are currently assisting prosecutors with their case against Bankman-Fried.
At a bankruptcy hearing on Dec. 20, FTX's administrators said they had secured more than $1.2 billion worth of assets, CoinDesk reported. This includes $720 million stored by U.S.-based financial institutions, $500 million held by FTX in other U.S. institutions, about $130 million in cash locked up in Japan, $6 million reserved for FTX's operations, and a majority of the missing millions held by an unauthorized, unidentified U.S. broker, they said.