Incident & Breach Response , Infographics , Security Operations
Update: Top 5 Health Data Breaches
Anthem Incident Likely the Largest in Healthcare Sector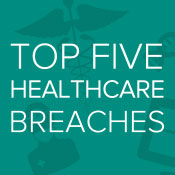 News that health insurer Anthem Inc. suffered a massive data breach after hackers gained access to a corporate database containing personal information illustrates yet again the healthcare sector's vulnerability.
See Also: Fighting Machine-Speed Attacks With Autonomous Response
Joseph R. Swedish, president and CEO of Indianapolis, Ind.-based Anthem, says the organization was hit with a "very sophisticated external cyber attack" which gave the intruders unauthorized access to Anthem's IT system, resulting in the compromise of personal information of current and former customers and employees.
Here's an updated look at the sector's top five data breaches since the September 2009 enforcement of the HIPAA Breach Notification Rule.