Artificial Intelligence & Machine Learning , Big Data Security Analytics , Blockchain & Cryptocurrency
Union Budget 2019: What Does it Mean to Cybersecurity?
Emphasis on Skills Development, Encouraging Start-Ups and Aadhaar Expansion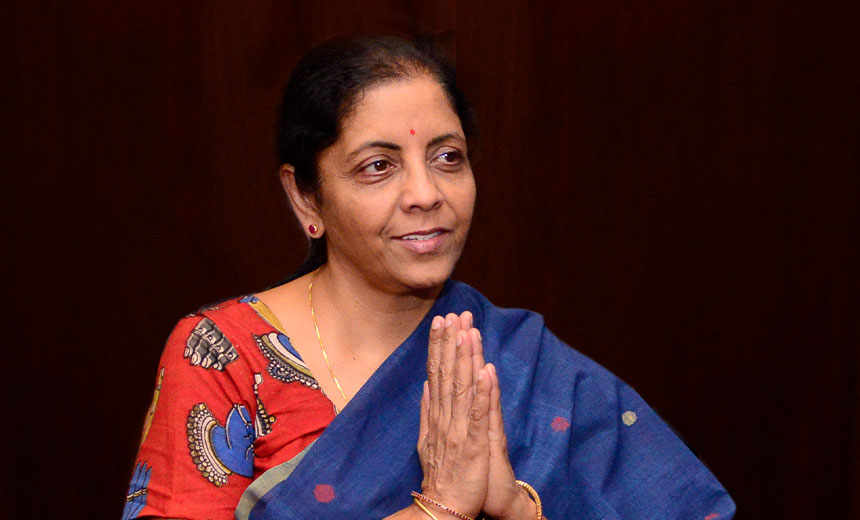 Union Finance Minister Nirmala Sitharaman presented the budget for the year 2019-20 with a 10-year vision, laying emphasis on skills development around new technologies, expanding the scope of Aadhaar and giving impetus to Start-Ups through tax incentives and have focused programs to drive digital economy.
See Also: The Power of a Data-To-Everything Platform
"We will increase our efforts to improve the skills of professionals in the areas of artificial intelligence, big data, robotics, etc valued highly within and outside the country to ensure they can secure high paying jobs both in India and abroad," she said.
She insisted on the need for easing out bureaucratic processes for encouraging start-ups with a whole set of tax benefits to accelerate their growth and also make it easier to conduct business and encourage developing innovative products in India.
Expanding the scope of Aadhaar was the key announcement in the budget, which proposed the Aadhaar number could be used as an identity for filing income tax returns or availing any other government service, in case of non-availability of Permanent Account Number card. The Bill will be passed in the parliament and all the recommendations will be executed in a phased manner.
In response to the proposal, critics commended the finance minister's digital India vision, but expected more specific focus on the securing of digital India.
"We heard the FM talk about AI and other technologies. What is surprising is that cybersecurity was a left out. At a time when we are talking of India being a trillion dollar economy, it is natural that cybercriminals will attack us. Skill development of cybersecurity forces should also have been mentioned," says C.N. Shashidhar, CEO at SecurIT.
Technology Skill Development
Businesses have lauded the government's move to focus on skills development in the areas of artificial Intelligence, IoT, robotics, big data, which indeed is in demand by most industries. "This Union budget has given due importance to skilling and education, which is a welcome move in today's skill-driven industry," says Vineet Chaturvedi, co-founder, Edureka, a global e-learning company for trending technologies. "The expansion of Skill India to include AI, IoT and other futuristic technologies hits the nail on the head, and the establishment of National Research Foundation is a major boost towards building India's technical competence," says Chaturvedi. Skill India was launched by the Prime Minister on 15 July 2015 with an aim to train over 40 crore people in India in different skills by 2022.
With India all set to test 5G roll out in the next few months, experts feel the emphasis on IoT has come at the right time. However, some found it surprising not to see anything being mentioned on security surrounding these technologies.
"The focus on fostering and supporting technological innovation is loud and clear whether one looks at artificial intelligence or robotics," says Deepak Maheshwari, Director of Government Affairs, India, ASEAN & China at Symantec. "However, if not protected well against vulnerabilities and malicious actors, crippling of digital systems or data breaches can have far-reaching and devastating impact, especially in critical information infrastructure sectors. Hence, the government must set aside 10 percent of technology budgets exclusively towards cyber security. In addition, cyber safety must become part and parcel of the digital literacy and financial inclusion initiatives," Maheshwari says.
Digital Payments
During her budget presentation, Sitharaman also made it clear that India will continue its journey toward digital payments to put a curb on black money and money laundering. While spelling out the number of measures taken by the government in the past few years to promote digital payments, Sitharaman said the government will continue its drive toward a cash-less economy. "To discourage the practice of making business payments in cash, I propose to levy a TDS [tax deducted at source] of 2% on cash withdrawals exceeding INR 1 crore in a year from a bank account," says Sitharaman. She urged businesses having annual turnover of INR 50 crore or more to opt for BHIM, a mobile payment app developed by the National Payments Corporation of India, AadhaarPay, a payment system which allows merchants to collect payments from a customer using his Aadhaar number and biometric authentication, and other payment methods promote a less cash economy. "I propose that no charges or merchant discount shall be imposed on customers."
Harshil Mathur, CEO and co-founder, Razorpay, said, "On the digital payments front, the government has demonstrated their interest in promoting digital payments in a great way. I believe this will discourage businesses from making cash transactions and encourage them to make payments through digital channels," says Mathur.
Making it Easy for Start-ups
During the Interim Budget presented in February this year, the government had missed the mark with regard to the Angel Tax and offered little clarity on its scope to the start-up community. Section 56(2)(viib) of the Income Tax Act has come to be considered as a draconian measure by Indian startups and investors alike. Although the statute was instituted to prevent money laundering of unaccounted funds through private limited companies, the provision had severely hit the entrepreneurial class, as according to the Angel Tax, any investment received at a premium by an Indian startup will be taxed as income which posed impediments to start-ups seeking to raise funds.
Sitharaman addressed the issue and said that going forward start-ups and their investors will not be subjected to any kind of scrutiny with respect to valuations. The government also announced e-verification portal for investors which is expected to make the process smooth.
The move is expected to give fresh impetus to start-ups, including cybersecurity companies.
Aadhaar Interchangeable with PAN
With an aim to simplify tax administration and bring greater transparency, FM has proposed interchangeability of PAN and Aadhaar. "Those who don't have PAN, can file ITR by simply quoting Aadhaar number," Sitharaman noted.
Earlier in February this year, SC had held that while Aadhaar would remain mandatory for filing of I-T returns and allotment of (PAN), it would not be mandatory to link Aadhaar to bank accounts and telecom service providers cannot seek its linking for mobile connections.
The decision came against the backdrop of citizens' personal data getting leaked because of number of Aadhaar breaches.