Cybercrime , Cyberwarfare / Nation-State Attacks , Fraud Management & Cybercrime
UK High Court Reverses Extradition Ruling on Julian Assange
US Request Upheld After Justice Department Offers Guarantees on Prison Conditions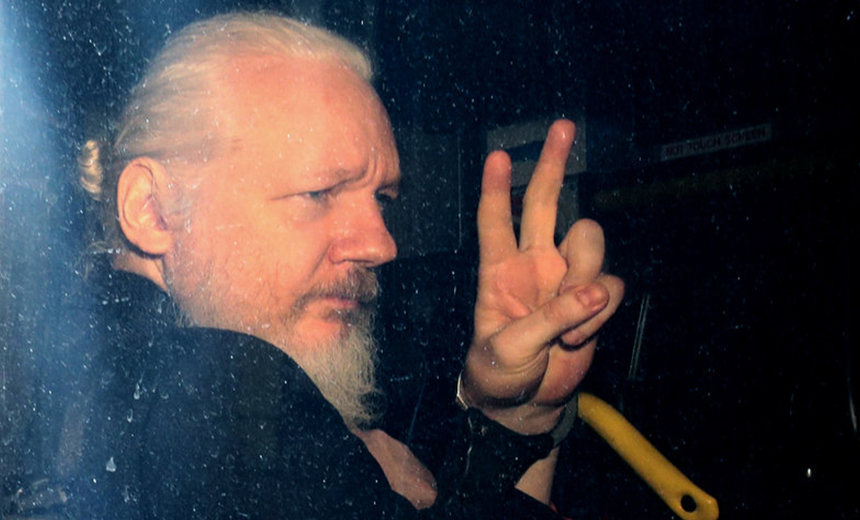 The U.K. High Court has upheld the U.S. government's request to extradite WikiLeaks founder Julian Assange.
See Also: OnDemand | Overcoming the Limitations of Addressing Insider Threat in Banking: Real Solutions for Real Security Challenges
The judgment by the High Court of England and Wales represents a reversal for 50-year-old Assange. In January, a U.K. district judge had ruled that he should not be extradited, owing to the conditions in which he would be incarcerated and the risk that would pose to his mental health and likelihood that it would drive him to take his own life.
The High Court's 27-page judgment, published Friday, follows hearings held in late October over whether extraditing Assange to America would lead to him facing inhumane or degrading conditions, in violation of Britain's extradition law.
The High Court said that when the U.S. appealed the January ruling, it included sufficient assurances that the extradition would comply with British law.
Accordingly, the High Court upheld the U.S. appeal and remitted the case to Westminster Magistrates' Court, directing that a district judge send the case to the secretary of state. That position, also known as the home secretary, is held by Priti Patel, the Conservative Member of Parliament for Witham, and she will have the final say over whether Assange gets extradited to the U.S.
Assange, however, would not be immediately extradited. He has the right to appeal the High Court's ruling, and his fiancee, Stella Morris, said Friday that he will do so.
US Accuses Assange of Espionage, Hacking
The closely watched case against Assange has been years in the making.
The Obama administration explored bringing charges against Assange over WikiLeaks' publishing of sensitive State Department cables in 2010, which Chelsea Manning, a former U.S. Army private, was convicted of leaking in 2013, The Washington Post reported. But the DOJ apparently worried about the precedent that might create and did not take the case further, but left it open.
Donald Trump lauded WikiLeaks in 2016, declaring during his presidential campaign: "I love WikiLeaks."
But after he became president in 2017, Trump reportedly instructed federal prosecutors to explore how members of WikiLeaks might be prosecuted. In April of that year, then-CIA Director Mike Pompeo slammed WikiLeaks, calling it "a nonstate hostile intelligence service often abetted by state actors like Russia" that posed a threat to democracies. Specifically, the U.S. intelligence establishment has accused WikiLeaks of publishing material provided to it by Russian intelligence agencies, including stolen Democratic National Committee information.
In April 2017, Assange was removed from the Ecuadorian embassy in London and arrested, after the government of Ecuador formally withdrew its asylum protection. Assange had fled into the embassy in June 2012 to avoid being extradited to Sweden, where he was wanted for questioning in a sex crime investigation.
He later appeared in the Westminster Magistrates' Court and was found guilty of breaching bail in 2012.
Upon Assange's arrest, the U.S. government filed a request for his extradition and unsealed an indictment accusing him of conspiring to commit a computer intrusion and working with Manning to obtain "classified information related to the national defense of the United States so that WikiLeaks could publicly disseminate the information on its website."
Assange has remained in London's high-security Belmarsh Prison since 2019.
January Ruling Denied Extradition Request
Assange now faces an 18-count U.S. federal grand jury superseding indictment charging him with espionage and computer hacking crimes as well as conspiring with hacking groups such as Anonymous and LulzSec.
But in January, District Judge Vanessa Baraitser denied the U.S. Department of Justice's extradition request.
Baraitser had found in favor of the U.S. in its extradition request on all but one issue: whether extraditing Assange to the U.S. would violate Britain's Extradition Act 2003, which prohibits doing so if a defendant will face torture, or inhumane or degrading treatment.
In her 130-page ruling, Baraitser determined that Assange's health would likely suffer if he was moved to the U.S. to face criminal charges. "Assange faces the bleak prospect of severely restrictive detention conditions designed to remove physical contact and reduce social interaction and contact with the outside world to a bare minimum," she wrote. "He faces these prospects as someone with a diagnosis of clinical depression and persistent thoughts of suicide."
The DOJ appealed her decision, arguing that her finding about Assange's mental state was incorrect, and making a number of assurances regarding how he would be treated. The appeal also made clear that the extradition request had the backing of the new president, Joe Biden.
High Court Overturns Ruling
In its judgment overturning Baraitser's ruling, the High Court said it looked only at the question of whether extraditing Assange would violate Britain's Extradition Act. It said Baraitser should have made her "preliminary view" known to the U.S., "to afford it the opportunity to offer assurances to the court," according to a summary of the judgment.
"In the context of extradition proceedings, a state which is requesting extradition may give assurances as to matters such as the conditions in which the person concerned will be detained if he is extradited," according to a summary of the High Court's judgment. "Assurances of this kind are solemn undertakings offered by one government to another," backed by obligations specified in treaties, it says.
The High Court says that the U.S. government "has now provided the United Kingdom with a package of assurances which are responsive to the judge's specific findings in this case," via an official diplomatic note dated Feb. 5.
They include the U.S. government assuring the High Court that Assange will not be subject pre-trial or post-trial to any so-called restrictive special administrative measures, which allow the government to restrict a defendant's access to the outside world; or placed in the Florenco, Colorado, Administrative Maximum Security - aka supermax - prison, for anything that he has done to date. But the High Court that said that he could be subject to special administrative measures - or SAMs - or imprisoned in the supermax prison if he does something subsequently that meets the U.S. government's threshold for imposing either condition.
The U.S. government has also said that if Assange is convicted and receives a prison sentence, it will consent to his being moved to Australia to serve his prison time there. Finally, while Assange is in U.S. custody, the American government has promised the High Court that it will provide Assange with "appropriate clinical and psychological treatment as recommended by a qualified treating clinician at the prison where he is held."