Critical Infrastructure Security , Fraud Management & Cybercrime , Social Media
Twitter Permanently Suspends President Trump's Account
Social Media Firm Cites Concerns Over Violence Following Capitol Riot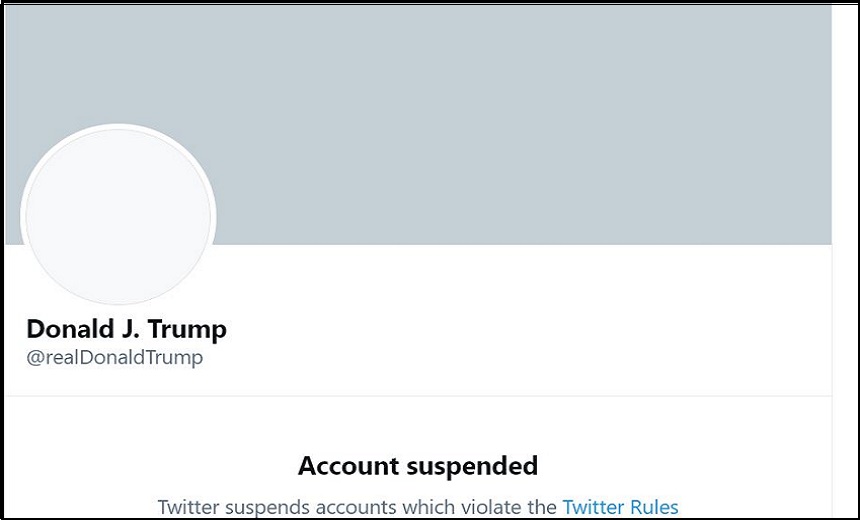 Twitter on Friday permanently suspended the official account of President Donald Trump, citing concerns over violence following the riot this past week by pro-Trump supporters at the Capitol building in Washington.
Following the riot on Wednesday, Twitter suspended Trump's account for 12 hours but allowed the president to return on Thursday. Facebook, one of Trump's other favorite social media platforms, announced at the same time that it would suspend the president's account through the end of his term.
See Also: OnDemand | Understanding Human Behavior: Tackling Retail's ATO & Fraud Prevention Challenge
On Friday, Twitter, which previously warned that the account could be suspended, went a step further than Facebook and some other social media firms and permanently banned the @realDonaldTrump account from its platform. The account had approximately 88 million followers. Users were greeted with a blank screen Friday night.
"After close review of recent Tweets from the @realDonaldTrump account and the context around them - specifically how they are being received and interpreted on and off Twitter - we have permanently suspended the account due to the risk of further incitement of violence," according to Twitter.
After close review of recent Tweets from the @realDonaldTrump account and the context around them we have permanently suspended the account due to the risk of further incitement of violence.https://t.co/CBpE1I6j8Y

— Twitter Safety (@TwitterSafety) January 8, 2021
Trump had been a prolific tweeter. He used the platform to communicate to his millions of followers and sometimes to issue policy or direct orders. Over the past four years, some administration officials found out they had been fired or removed from their jobs by reading the president's tweets.
Riot Fallout
The moves by Twitter and other social media companies this week followed several hours of rioting on Wednesday when Trump supporters stormed the U.S. Capitol and vandalized the building. The incident also led to the deaths of five people, including a police officer.
Security experts also raised the possibility of cybersecurity problems after the mob gained access to lawmakers' offices and unguarded devices (see: Rioters Open Capitol's Doors to Potential Cyberthreats).
The Justice Department announced Friday that 13 individuals have been charged with a variety of federal crimes related to the riot at the Capitol. In addition, the FBI said it had arrested Richard Barnett, 60, of Arkansas, who was allegedly photographed with his feet up on a desk in House Speaker Nancy Pelosi's office. He also faces several federal charges.
Offensive Tweets
In announcing the suspension of Trump's account, Twitter pointed to two messages posted over the last two days that could be interpreted as citing violence. In the first of these, the president wrote:
"The 75,000,000 great American Patriots who voted for me, AMERICA FIRST, and MAKE AMERICA GREAT AGAIN, will have a GIANT VOICE long into the future. They will not be disrespected or treated unfairly in any way, shape or form!!!"
In the second Tweet, Trump wrote: "To all of those who have asked, I will not be going to the Inauguration on January 20th."
Analyzing the language of these messages, Twitter notes that the tweets could incite violence and that Trump had violated the platform's Glorification of Violence policy. In the wake of the Capitol Hill riot, the social media company added that its platform was being used for plotting further violence, including a proposed secondary attack on the U.S. Capitol and state capitol buildings on Sunday, Jan. 17.
"As such, our determination is that the two Tweets above are likely to inspire others to replicate the violent acts that took place on January 6, 2021, and that there are multiple indicators that they are being received and understood as encouragement to do so," according to Twitter.
In looking at the second tweet, the company also found it might encourage those people potentially considering violent acts and that the upcoming inauguration of President-elect Joe Biden might be considered a "safe" target because Trump would not be attending.
The New York Times and other publications reported that, in addition to Trump, Twitter suspended the accounts of Trump supporters Michael Flynn and Sidney Powell on Friday for spreading conspiracy theories online.
After the suspension, Trump supporters claimed that Twitter was biased against the president and attempting to censor Trump and his followers. The president's son, Donald Trump Jr., tweeted:
We are living Orwell's 1984. Free-speech no longer exists in America. It died with big tech and what's left is only there for a chosen few.

This is absolute insanity! https://t.co/s2z8ymFsLX

— Donald Trump Jr. (@DonaldJTrumpJr) January 9, 2021
Parler Games
The Times and other publications have noted that many of Trump's advisers have asked the president to create an account on Parler, a social media platform created in 2018 that acts much like Twitter and is proving popular with right-wing politicians, commentators and activists.
Parler, however, is running into its own problems. Amazon, Apple and Google have all booted it from their platforms, CNN reports.