Top 2014 Healthcare Breaches
Infographic Highlights Patient Risks, Takeaways for Organizations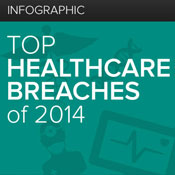 The biggest 2014 U.S. health data breaches listed on the federal tally so far demonstrate that security incidents are stemming from a variety of causes, from hacker attacks to missteps by business associates.
See Also: Fighting Machine-Speed Attacks With Autonomous Response
The top breaches offer important lessons that go beyond the usual message about the importance of encrypting laptops and other computing devices to prevent breaches involving lost or stolen devices, still the most common cause of incidents (see: Biggest Health Data Breaches of 2014). They also highlight the need to bolster protection of networks and to carefully monitor the security practices of business associates.
The following infographic highlights key risks to patients and security considerations for organizations heading into 2015.