Fraud Management & Cybercrime , Governance & Risk Management , Privacy
TikTok Sues Trump Administration to Fight Against Ban
Company Claims It Is Not a National Security Threat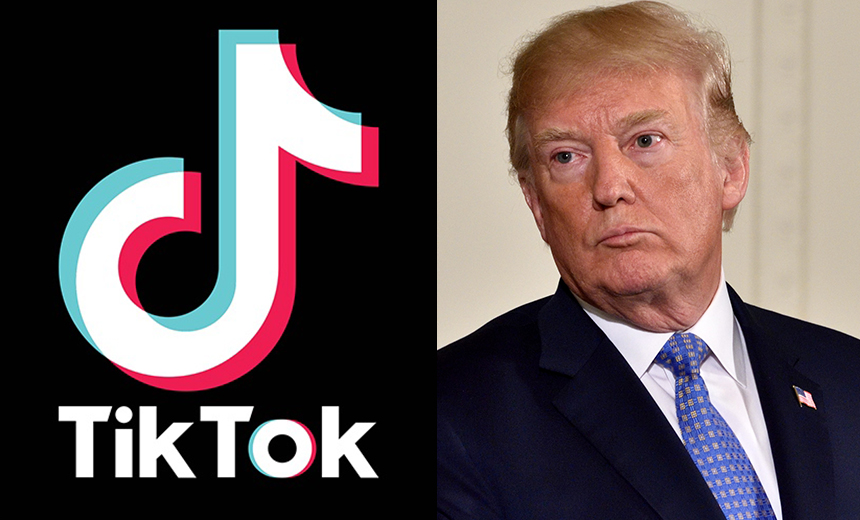 China's TikTok has filed a federal lawsuit against the Trump administration seeking to overturn the president's executive order that would ban the social media app from the U.S.
See Also: 2022 Unit 42 Incident Response Report
The lawsuit filed by TikTok and its parent company, ByteDance, on Monday claims Trump's order, issued on Aug. 6, is arbitrary and that the social media platform does not present a threat to U.S. national security (see: Trump Signs Executive Orders Banning TikTok, WeChat).
The lawsuit, filed in Federal District Court for the Central District of California, also argues that TikTok does not store U.S. user data in China, where the government can access it.
"The executive order seeks to ban TikTok purportedly because of the speculative possibility that the application could be manipulated by the Chinese government," according to the lawsuit. "But, as the U.S. government is well aware, plaintiffs have taken extraordinary measures to protect the privacy and security of TikTok's U.S. user data, including by having TikTok store such data outside of China (in the United States and Singapore) and by erecting software barriers that help ensure that TikTok stores its U.S. user data separately from the user data of other ByteDance products."
The lawsuit also notes that ByteDance has previously provided the Committee on Foreign Investment in the United States with numerous documents when the company acquired Musical.ly, a music and lip-syncing application, in 2018 and combined that app with its TikTok operations, which gave the company a presence in the U.S.
"During this period, and through the course of the [committee's] review, ByteDance provided voluminous documentation and information in response to [the committee's] questions," according to the lawsuit. "Among other evidence, ByteDance submitted detailed documentation … demonstrating TikTok's security measures to help ensure U.S. user data is safeguarded in storage and in transit and cannot be accessed by unauthorized persons - including any government - outside the United States."
The White House did not have an immediate response to the lawsuit on Monday.
Executive Orders
Earlier this month, Trump in his executive order gave ByteDance 45 days to find a buyer for its U.S. TikTok operations before the app would be banned in the U.S. The White House issued a separate executive order that would also ban WeChat, another social media app that is based in China.
Trump said that TikTok and WeChat collect sensitive personal data on U.S. citizens and the Chinese government could access that data, making both firms national security threats (see: DOJ Official Spells Out Concerns About TikTok, WeChat).
On Aug. 14, Trump signed an updated executive order giving TikTok's parent company 90 days to find a buyer. Treasury Secretary Steven Mnuchin noted that Committee on Foreign Investment in the United States had conducted an exhaustive review of ByteDance and its ownership of TikTok and found that its collection of personal data could harm American citizens (see: Trump Orders TikTok Owner to Divest US Operations).
Lack of Due Process Alleged
A TikTok spokesperson told Information Security Media Group: "Even though we strongly disagree with the administration's concerns, for nearly a year, we have sought to engage in good faith to provide a constructive solution. What we encountered instead was a lack of due process as the administration paid no attention to facts and tried to insert itself into negotiations between private businesses. To ensure that the rule of law is not discarded and that our company and users are treated fairly, we have no choice but to challenge the executive order through the judicial system."
When Trump signed the executive orders on Aug. 6, he cited his authority under the International Emergency Economic Powers Act, which allows the president to regulate international commerce during a national emergency.
In its lawsuit, TikTok argues that Trump is misusing his authority under the Act.
"The executive order is not rooted in bona fide national security concerns," the lawsuit states. "Independent national security and information security experts have criticized the political nature of this executive order and expressed doubt as to whether its stated national security objective is genuine," according to the lawsuit.
Richard Santalesa, a technology and data privacy attorney at SmartEdgeLaw Group, a boutique law firm with offices in New York and Connecticut, notes that TikTok is arguing the the company was denied due process and that Trump misused his executive authority under the International Emergency Economic Powers Act, but courts generally side with the president when it comes to national security matters.
"For starters courts are - generally - deferential to the executive branch on national security grounds and given our manifest ongoing economic and other disputes with China are likely to - without more - state that the executive order is narrowly targeted," Santalesa told ISMG. "That conversely may be a flaw in the executive order, as it names the two explicit companies, but that's not unheard of certainly."
Potential Sale
Microsoft says it's considering buying TikTok's North American, Australian and New Zealand operations. Oracle has also expressed interest in buying those operations, and Trump has signaled his support for a deal, according to the Wall Street Journal.
Managing Editor Scott Ferguson contributed to this report.