Cybercrime , Fraud Management & Cybercrime , Fraud Risk Management
Prosecutors: Insider Trading Tips Sold on Darknet Sites
Indictment Alleges Apostolos 'The Bull' Trovias Sold Variety of Corporate Financial Data
A 30-year-old Greek national has been indicted by a federal grand jury on charges of selling insider trading tips and other proprietary financial data on darknet sites over several years, according to the U.S. Justice Department.
See Also: OnDemand | Understanding Human Behavior: Tackling Retail's ATO & Fraud Prevention Challenge
Apostolos Trovias, who went by the online handle "The Bull," has been charged with one count of securities fraud and one count of money laundering. He also faces a civil complaint of violating anti-fraud provisions of U.S. securities laws, the Securities and Exchange Commission notes.
The more serious of the two criminal charges - securities fraud - carries a possible 25-year federal prison sentence, according to the Justice Department.
It's not clear if Trovias, of Athens, Greece, is awaiting extradition to the U.S. to face charges. A DOJ spokesperson could not be immediately reached for comment Monday.
Federal prosecutors allege that between 2016 and February of this year, Trovias sold or offered to sell proprietary financial data as well as insider trading tips to users of various darknet marketplaces, including the AlphaBay site, which was shuttered by the FBI and Europol in 2017.
Trovias allegedly used a series of encrypted apps and email services to hide his communication with potential buyers and sellers of this insider data, prosecutors say. He also accepted payments in bitcoin in an attempt to help keep his various deals secret, they say.
"Trovias created a business model in which he sold - for profit - proprietary information from other companies, stock trading tips, pre-release earnings, and other inside information, as we allege," says FBI Assistant Director William F. Sweeney Jr.
While federal authorities were investigating these trades, Trovias allegedly sold unpublished data, including earnings reports and other insider tips, to undercover agents with the FBI and the Internal Revenue Service, according to the SEC complaint.
Buying and Selling
Starting in 2016, Trovias began interacting with darknet forum users as a way to sell what he claimed were stock trading tips and other insider information that he had gathered from various sources, the SEC complaint notes.
In many cases, this information was misleading or dubious and not based on real, unpublished financial data, according to the SEC.
"Trovias claimed that his tips consisted of order-book data from a securities trading firm - purportedly material, nonpublic information - that was provided to him by an employee of the trading firm," according to the complaint.
The SEC complaint also notes that many of Trovias' claims "were either materially false or misleading and made in furtherance of a scheme to deceive purchasers who wanted to trade on inside information."
In other cases, however, the proprietary, unpublished information Trovias offered for sale was legitimate, prosecutors say. For example, they allege that Trovias sold proprietary information belonging to various securities issuers - including at least one pre-release earnings report that belonged to a publicly traded company - for approximately $5,000 in bitcoin, according to the federal indictment.
The SEC complaint lists several publicly traded pharmaceutical firms, including Aeglea BioTherapeutics and BiondVax Pharmaceuticals, along with other U.S. companies such as Westmoreland Coal Co., from which Trovias allegedly gained proprietary financial data before it was officially published.
Subscription Services
Each time a darknet market closed, federal prosecutors allege, Trovias moved his operations to other underground sites. Besides AlphaBay, Trovias advertised his services on Dream Market, Nightmare Market and the ASAP Market forums, according to the SEC complaint.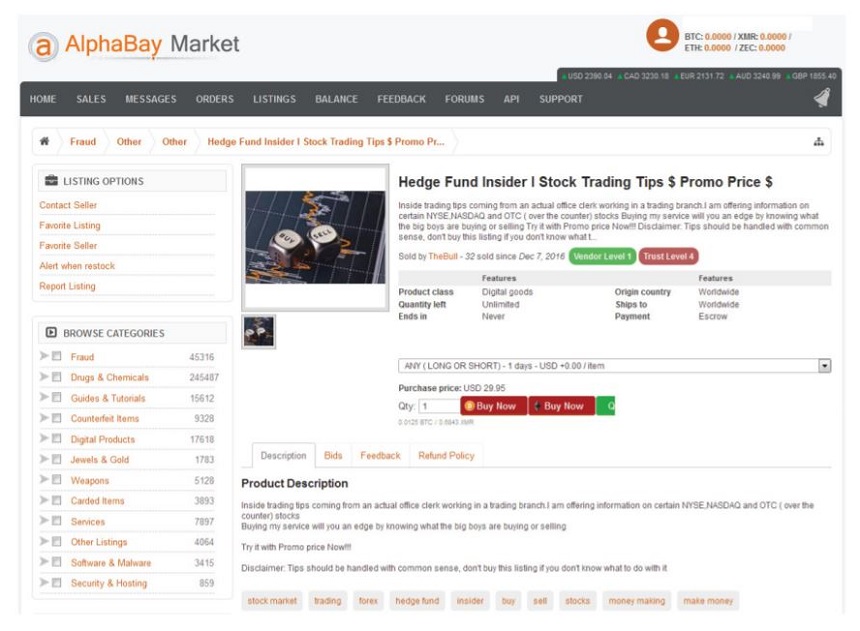 An advertisement on the now-defunct AlphaBay site allegedly created by Apostolos Trovias (Source: SEC)
Trovias also allegedly created newsletters and insider stock trading tip sheets that users could subscribe to for daily, weekly or monthly fees, the SEC notes. On the AlphaBay site, for example, Trovias allegedly offered a "promotional" tip for $29.95 as well as a weekly plan for $99.95 and a monthly subscription to his newsletter and tip sheet for $299, according to the SEC.
After AlphaBay closed, Trovias moved his operation to Dream Market and allegedly began selling new subscriptions for similar prices, the SEC notes. The undercover IRS and FBI agents subscribed to these newsletters and began receiving insider tips from Trovias.
"In messages with the FBI agent, Trovias explained that the information underlying his tips came from 'money managers and a market maker,'" according to the SEC.
After various darknet underground sites began closing, federal prosecutors allege that Trovias began designing and building his own website to facilitate the purchase and sale of nonpublic information for use in stock trading.
AlphaBay
Although AlphaBay was shuttered in 2017, prosecutors and law enforcement officials continue to bring criminal cases against those who were active on the darknet site or worked as administrators. In September 2020, a federal judge sentenced Bryan Connor Herrell, who worked as the moderator on the site, to 11 years in prison after he pleaded guilty to a federal racketeering charge (see: AlphaBay Moderator Sentenced to 11 Years in Prison).
AlphaBay, which launched in December 2014, was considered to be the largest darknet marketplace before it was shut down in July 2017. It had about 369,000 listings, 350,000 active buyer accounts and more than 9,000 vendors, according to the Justice Department. As part of the takedown of AlphaBay, police recovered an unencrypted laptop that belonged to one of the site's creators, which has led to additional arrests and prosecutions over the last four years (see: One Simple Error Led to AlphaBay Admin's Downfall).