No Debit Fees; What Next?
BofA, Other Banks Retract Fees in Wake of Consumer Backlash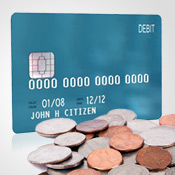 So, now where will U.S. banks find additional revenue to help fight fraud?

On Tuesday, Bank of America reversed its decision to impose a $5 monthly fee for basic accountholder debit transactions.

Consumer outcry against the fees was the catalyst for BofA's reversal.

"We have listened to our customers very closely over the last few weeks and recognize their concern with our proposed debit usage fee," said David Darnell, BofA co-chief operating officer. "As a result, we are not currently charging the fee and will not be moving forward with any additional plans to do so."

This news came after Atlanta-based SunTrust made a similar announcement, saying it planned to repeal the $5 monthly charge it recently implemented. And on Tuesday, Alabama-based Regions Bank said it would stop charging the $4 monthly fee it had instated for additional debit revenue.

JPMorganChase was the first to speak out against the fees, when last week it said it had decided not to impose debit charges. Wells Fargo also has decided to call off plans to add debit fees for accounts in certain markets.

Steve Kenneally, who works in the American Bankers Association's Center for Regulatory Compliance, says these decisions come at a time when banking leaders realize they are under the microscope of public opinion. "Everything they do will be magnified, good or bad," he says.

Most notable in the public opinion sphere are protests linked to the Occupy Wall Street Movement. Late last week, supporters of Occupy announced plans to protest some of the country's biggest banks in New York. [See Occupy: How Much of a Threat?.]

"I don't know that it's specifically the Occupy Movement," Kenneally adds, "but there's no doubt that public opinion is quick to interpret what banks are doing, even if the perception is wrong. Everyone is watching."

David Nussenbaum, a payments and financial crime subject matter expert at Ernst & Young, says viral consumer backlash against monthly service charges has definitely played a role in banks' recent decisions.

Nussenbaum suggests a public-relations initiative that describes how banks and credit unions invest in debit card security would help. "The largest players have hundreds of analysts monitoring costly real-time surveillance systems that help keep card fraud in check," he says. "The banks should communicate to the market this fraud management service and other value-adds. Perhaps then there will be a little more public sympathy for their capped interchange fees."

Banks' decision to cut debit-card rewards programs and implement additional debit transaction fees stems from debit interchange cuts or fee caps that took effect Oct. 1. The cuts, mandated by the highly controversial amendment introduced by Sen. Dick Durbin, D-Ill., to the Dodd-Frank Wall Street Reform and Consumer Protection Act, have been a source of contention for months.

To compensate for the debit-revenue loss, the Federal Reserve said it would offer card issuers a 1 cent incentive for investments they made in debit fraud prevention.

But industry experts have balked at the 1 cent bone, saying it's far too low to cover any significant investment.

"Not commenting on any one bank in particular, we thought it would be rational for banks to seek revenue in other places when they had to adjust for the revenue interchange cutback," Kenneally says. "But now we have the law of public perception, which is a little different than the law of economics, and it looks like some banks reacted."

In late September, banking and credit unions associations submitted a comment letter to the Fed, suggesting an increase in the debit incentive fee. [See Banks Seek Reprieve from Durbin.]

"If the rate is not increased, it won't be good for the industry," Kenneally says. "It will put a damper on the spending for anti-fraud technologies, because financial institutions simply won't be able to afford it."
Additional Revenue Sources?
Banks affected by the interchange cuts - those with more than $10 billion in assets - will likely have to seek other sources of revenue to compensate for the interchange loss. Unless the Fed agrees to increase the incentive linked to fraud prevention, they will have little recourse.
See Also: Live Panel | How Organizations Should Think About Zero Trust
But Phil Blank, managing director of security, risk and fraud for Javelin Strategy & Research, says a reduction in fraud will result in a reduction in financial losses, ultimately a win for financial institutions, even if they don't get an incentive.
"[Financial institutions] must adopt and embrace a customer driven architecture: Providing consumers with two-way actionable alerts can eliminate card-not-present fraud overnight," he says. "Let's create an environment where we empower the consumer and, in doing so, the FIs will create more stickiness (e.g. less customer loss and churn), and will be able to migrate customers to lower cost and higher revenue channels."