Information Security Job-Seekers - Position Yourself for Professional and Personal Excellence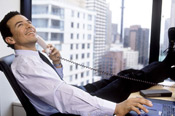 You're thinking about making a career move in the information security industry, but not sure how to approach it? Position yourself for professional and personal excellence!

Set Realistic Goals for Yourself
One morning you wake up and realize you are head to head with the unknown. How can you move past this and reengage your ability to effectively interact with people? Out there is the right job for you – all you need to do is find it! Try to set realistic expectations and goals for yourself, so you are not discouraged or disappointed.

Write a Resume That Gets You in the Door
Your resume is a tool with one specific purpose: to win an interview. If it is doing what it is supposed to do, it worked. If it didn't, it isn't an effective resume. A resume is an advertisement, nothing more, nothing less. Get a friend or colleague to review your resume. If they can't understand it, neither can a potential employer.

Reevaluate Your Approach
Examining what you've been good at in the past; understand where you are today; and set goals for tomorrow! Apply a bit of planning; it will pay off in immensely. Whatever your work week is like – you can certainly recognize your and attain your goals if you allow yourself.

Pick-up the Habits of a Highly Effective Job Seeker
· Be Specific – Make sure your resume and relevant skills match the opportunity.
· Be Honest – Stretching the truth is never a good idea and often times will be uncovered.
· Be Precise – Check and re-check your resume and cover letter.
· Be Polite – Be sure the employer can tell you are interested, qualified, and available.
· Be Respectful – In today's market you cannot pick your spot and name your price.
· Be Responsive – Employers expect interested candidates to be prompt and punctual.

Get started on your search today! Visit the BankInfoSecurity.com Career Center, the premiere source for connecting professionals with positions in the information security industry. Job seekers can search jobs and advertise their resume to employers free of charge. Visit Careers.BankInfoSecurity.com for further information.