The Influencers: Gigi Hyland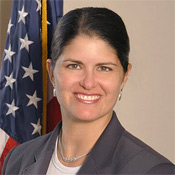 The Influencers is an occasional series of profiles of the people who shape information security, risk management and privacy.
Gigi Hyland, National Credit Union Administration Board Member, credit union leader.
Why She's an Influencer
In her tenure as an NCUA board member, Hyland has been a leader for change in the credit union industry. She's an innovator at the nation's only regulator of credit unions and speaks openly about the need for transparency in regulatory guidance and for strong risk management within credit unions.

In her fifth year of a six-year term, Hyland has spearheaded an outreach task force to give credit unions a better understanding of policy and examination practices and documentation requirements. She led an initiative to review the agency's policies on supplemental capital requirements and has hosted numerous open meetings on key topics including vendor management and information security requirements. Saying she's come "full circle" in her career in the credit union industry, Hyland started out as a lawyer representing credit unions. Now she's handing down the rules that govern these institutions.
Her Experience
From 2003-2005, she served as Senior Vice President, General Counsel for Empire Corporate Federal Credit Union in Albany, New York. While at Empire, she represented the corporate institution by serving as a board member of the National Cooperative Business Association. From 1997-2002, she served concurrently as Vice President, Corporate Credit Union Relations of the Credit Union National Association, Inc. and Executive Director for the Association of Corporate Credit Unions. Hyland began her career as an attorney serving credit unions at the family firm of Hyland & Hyland.
In Her Own Words
Why Information Security is Important for Credit Unions
"Things are changing every day in technology; credit unions can do a number of things to maintain information security and the risk management processes. It really starts with ensuring the credit union has a written security policy which they review and revise periodically. Using that as a base, it's really important for credit unions to complete and annually review the credit union's risk assessment, to make sure that they correctly and holistically assess not only the internal, but also the external threats, which could compromise member information."

On What's Working at Credit Unions
"What's working is education to members. Giving notice to members on credit unions websites and mailings and meetings and anyway that you can communicate to educate members on what is phishing, what are the new and most threatening types of endeavors that folks are undertaking to try to compromise member information. So the more information that members and consumers have in their hands to really understand what that email may mean -- that sure looks like it's from the credit union, but it's asking you for your social security number or your bank account number, and what does that mean, and how should a consumer respond? Education is probably the number one way to protect member interest and obviously to preserve the reputation of the credit union."

Carving Out a Leadership Role
"It is important to find a mentor or mentors to get advice from and gain leadership experience from them as you observe their work. Leaders are not always the person with the fancy title. I've found some of my greatest experience from folks who don't have the top leadership role in the organization, but the one who supervises the most people in the organization. I think it is important to share information and benefit from people's experiences. I've found it valuable and very humbling in my career, because there is only so much one person can learn. It is so important that people listen to everyone in the organization. Break down the silos and walls in your organization. The beauty of credit unions in their purest form is the ability to collaborate and share information among people."

Content Featuring Hyland:

'Challenging' Times for Credit Unions