Global Card Fraud Ring Busted
Australian Investigation Leads to MultiContinent Take-Down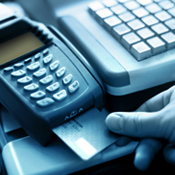 NSW Police in Australia say the department's fraud squad has arrested and charged five Malaysian and Sri Lankan nationals suspected of being behind an elaborate international card-skimming scheme that spanned the United Kingdom, mainland Europe and North America.

The alleged scheme, which authorities have been investigating for several months, involved skimming at point-of-sale terminals in numerous merchant locations. Police did not say how the accused are suspected of pulling off the scam -- such as through a compromised employee or through the swapping of POS devices, as was the case in the recent Michaels POS breach. [See Michaels Breach: Patterns Showed Fraud.]

Police, however, did say authorities seized numerous POS terminals, PIN overlays and other electronics, such as laptops and mobile phones. Authorities also discovered [CAN] $10,000 in cash, falsified identification and travel documents and a number of Canadian credit cards.

Over the last several months, investigators in connection with the case have seized more than 50 stolen POS terminals, dozens of skimmers and more than 18,000 blank and counterfeit cards. So far, 25 people have been arrested and charged.

"The NSW Police Force is committed to targeting fraud-related crime, and today's operation has resulted in significantly disrupting an alleged international syndicate," said Squad Commander Col. Dyson in a news release.
Shrinking Global Footprint: Card Fraud Prevails
The fight against card skimming is international, and the proliferation of contraband skimming devices on the Web makes the fight more difficult to win. In mid-July, a global investigation led by Europol was touted for breaking up an organized ring suspected of skimming details from more than 15,000 debit and credit cards. [See Global ATM Skimming Ring Busted.]

That ring, which had been based in Bulgaria, is believed to have defrauded cardholders in the European Union for more than 50 million euros [U.S. $70.99 million].

Terrie Ipson, manager of ATM security at Diebold Inc., says it's an uphill battle. "With ATM skimming, the stakes are low and the payoff is high, making it an attractive crime," she says. "These criminal networks are well-funded, organized and experienced. They have the resources to constantly change their attack methods to defeat security measures."

Online security expert Neil Schwartzman says the ubiquity of skimming-device sales is a concern.

"I think this goes to show how commoditized the tools are to create fake credit cards. It is an easy search on popular search engines to find machines to make cards," he says. "For a small investment on the mechanical side, one can steal millions of dollars. I have to wonder why these things aren't regulated in some manner, and why the [credit card] companies aren't pushing for such a thing."

Groups such as the ATM Industry Association have lobbied for stronger enforcement actions to be taken against websites that sell devices for skimming crimes. But lobbying and manifesting change have proven challenging, given differing international laws regarding the sale and purchase of devices used to perpetrate card fraud.

And that's the larger concern, Schwartzman says. "In 2006," he says, "we saw the bad guys starting to increase their cross-border reach. Now, more than ever, we do need to break down the barriers between national police forces, and allow them a free exchange of information to fight borderless crime."