Blockchain & Cryptocurrency , Fraud Management & Cybercrime , Next-Generation Technologies & Secure Development
Five Charged in $722 Million Cryptomining Ponzi Scheme
Prosecutors: Defendants Falsely Promised Big Returns
The U.S. Department of Justice has charged five individuals with running a high-tech Ponzi scheme that allegedly fleeced investors out of $722 million by falsely promising clients big returns as part of a cryptomining operation.
See Also: OnDemand | Understanding Human Behavior: Tackling Retail's ATO & Fraud Prevention Challenge
On Tuesday, the FBI arrested four men; a fifth, unnamed individual remains at large.
Matthew Brent Goettsche, 37, and Jobadiah Sinclair Weeks, 38, both of Colorado, and Joseph Frank Abel, 49, of California, were arrested on charges of conspiracy to offer and sell unregistered securities. Goettsche and Weeks also face additional federal charges of conspiracy to commit wire fraud.
In addition, the FBI arrested Silviu Catalin Balaci, who is charged with conspiracy to commit wire fraud; authorities did not release his age or residence. A fifth defendant allegedly connected with the scheme, who remains at large, was not named in the prosecutors' announcement.
All four men arrested Tuesday are being held in federal custody, pending court hearings, according to federal authorities.
The wire fraud conspiracy charge carries a maximum penalty of 20 years in federal prison, and a $250,000 fine, according to the Justice Department. The conspiracy to sell unregistered securities charge carries a maximum penalty of five years in prison as well as $250,000.
Long-Term Scam Alleged
Since June 2014, the five defendants allegedly helped run a operation called BitCoin Network that mined cryptocurrencies, such as bitcoin and ethereum, prosecutors say. Investors would buy shares in the company in hopes of profiting from the firm's cryptomining pools, which are used to generate virtual currency, authorities say.
BitCoin Network clients, who paid a $99 membership fee, were also encouraged to recruit others to invest in the firm and its cryptomining capabilities, according to the federal indictment unsealed this week. Investors also were provided the option to pay additional money for shares in what BitCoin Network purported were three mining pools, prosecutors say.
Rather than investing membership fees and profits in the mining operation, Goettsche, Weeks, Abel, Balaci and others allegedly took the clients' money for themselves knowing that the company's cryptomining capabilities would not be profitable, according to the indictment.
"The indictment describes the defendants' use of the complex world of cryptocurrency to take advantage of unsuspecting investors," says U.S. Attorney for New Jersey Craig Carpenito. "What they allegedly did amounts to little more than a modern, high-tech Ponzi scheme that defrauded victims of hundreds of millions of dollars."
'Idiots' and 'Morons'
Prosecutors alleged that Goettsche and Balaci started an online chat that would eventually lead to the creation of BitCoin Network. The two men knew that that the firm's cryptomining capabilities would not be able to produce the returns that they were promising investors in the chats, according to the indictment.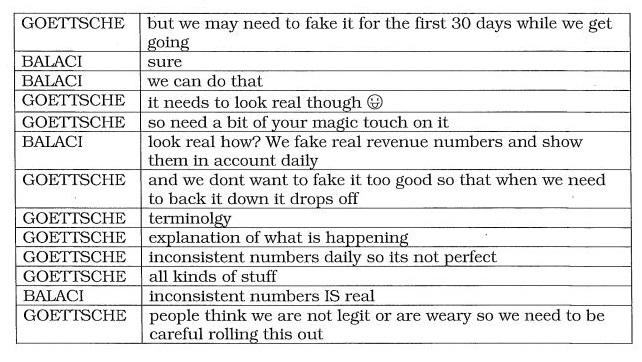 A online chat between two defendants charged in the Ponzi scheme (Source: Justice Department)
In a series of conversations, Goettsche and Balaci not only described details about how to inflate their revenue and capabilities, but also derided those who would invest in the company, according to the indictment.
"We are building this whole model on the backs of idiots" and to "prove the mining ... just means convincing the morons," according to one conversation from January 2015 described in the indictment.
In addition to inflating the company's cryptomining capabilities, the indictment alleges that Goettsche, Balaci and others involved in this scheme also sold shares in BitCoin Network without registering these shares with the U.S. Securities and Exchange Commission, which is illegal, according to the indictment.
Trying to Cash Out
To help sell these shares and promote the company, prosecutors alleged that Goettsche, Weeks and others conspired to provide false and misleading figures described as "bitcoin mining earnings," to investors.
"For example, in February 2015, Goettsche directed another conspirator to 'bump up the daily mining earnings starting today by 60%,' to which his conspirator warned 'that is not sustainable, that is ponzi teritori [sic] and fast cash-out ponzi . . . but sure'," according to federal prosecutors.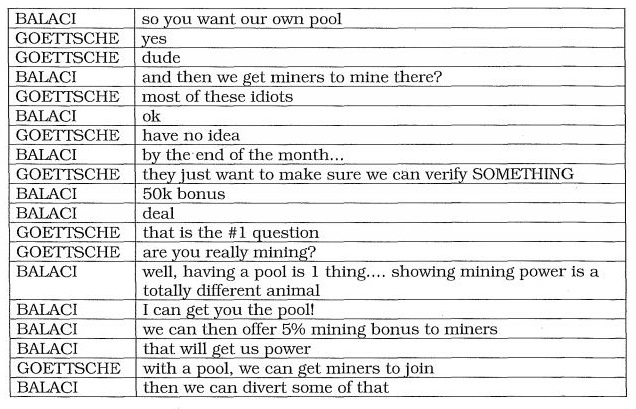 More online chats between defendants (Source: Justice Department)
In addition, Weeks and Abel created videos to promote BitClub Network, describing their firm as "the most transparent company in the history of the world that I've ever seen" and "too big to fail," according to the indictment.
All this was designed to fleece investors and keep new clients investing, with Goettsche telling one person that he wanted to "retire RAF!!! (rich as f---)," according to the indictment.
As the Ponzi scheme continued, however, some of the people involved began to raise concerns. For instance, Weeks wrote an email that asked why the company couldn't invest more money in its mining capabilities, according to the indictment. He argued that the owners would still make their money even by investing a little to keep the scheme active, prosecutors say.
Federal authorities do not specify how the FBI came to investigate this alleged Ponzi scheme, but authorities have set-up several websites where any investors that may have lost money can contact federal authorities.
Cryptomining Schemes
Since the introduction of virtual currencies, law enforcement and security analysts have warned about schemes that prey on naïve investors chasing risky, but potentially lucrative, profits.
An undated warning published by the Securities and Exchange Commission describes schemes similar to those described in this week's unsealed indictment.
"We are concerned that the rising use of virtual currencies in the global marketplace may entice fraudsters to lure investors into Ponzi and other schemes in which these currencies are used to facilitate fraudulent, or simply fabricated, investments or transactions," according to the SEC warning. "The fraud may also involve an unregistered offering or trading platform. These schemes often promise high returns for getting in on the ground floor of a growing Internet phenomenon."
In other cases, scammers steal resources from victims in order to mine cryptocurrencies. In a case from October, for instance, the Justice Department charged a Singapore man with running a large-scale, illegal cryptomining scheme that used stolen identities to access Amazon and Google cloud computing resources (see: Singapore Man Charged in Large-Scale Cryptomining Scheme ).
Earlier this year, security researchers with IBM noted an uptick in attackers attempting to install malware directly onto vulnerable devices in order to mine cryptocurrencies (see: Attackers Shift to Malware-Based Cryptominers).