Evolution of Banking Education
Kirby Davidson, Graduate School of Banking, University of Wisconsin-Madison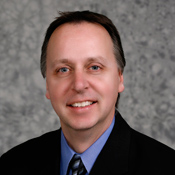 The past year has been an education for anybody in the banking industry. And the year's events have also had an impact on banking education, says Kirby Davidson, President and CEO of the Graduate School of Banking at the University of Wisconsin-Madison.

In an exclusive interview, Davidson discusses:

How the past year has influenced banking education;

How banking education will continue to involve;

What it takes to start a banking career today.

Davidson is actively involved in new product development, curriculum design, alumni relations, online distance education, and marketing and strategic alliances with sponsoring organizations and business partners.

Prior to joining GSB, Kirby was VP of Marketing for a national trade association, the Conference of State Bank Supervisors, in Washington, DC. He was recruited to develop and manage their new marketing department, overseeing nationwide marketing and membership campaigns, implementation of a new customer relationship database, and image-branding promotional activities for the organization and state banking industry.

He also worked for the Iowa Bankers Association for 10 years as their director of marketing, responsible for all marketing-related activities of a statewide trade association.

TOM FIELD: Hi, this is Tom Field, Editorial Director with Information Security Media Group. We are talking today about banking education, and we are talking with Kirby Davidson, the President and CEO for the Graduate School of Banking at the University of Wisconsin-Madison. Kirby, thanks so much for joining me today.

KIRBY DAVIDSON: It's my pleasure. Thanks for inviting me.

FIELD: Now reading over your biography, you have got quite a distinguished career in banking, so I am curious to learn more about yourself and how you came to join the school.

DAVIDSON: Well, I started in the banking industry about 20 years ago, and I started out on the association side. I worked for the Iowa Bankers Association as their Marketing Director and did a lot of statewide promotional campaigns and imaging advertising campaigns for the banking industry in the State of Iowa. I was then recruited to go to Washington, D.C. to be with the Conference of State Bank Supervisors, where I was their National Marketing Director for about three years before I came to the Graduate School of Banking at the University of Wisconsin-Madison, and I started out as their Director of Marketing, and then just about one year ago was promoted to the President and CEO position when the former President, Harry Argue had retired. So it has been a great career, very rewarding, and it has been just a delight to watch the careers of a lot of bankers around the country grow through the years.

FIELD: I bet. Now give us a sense of what the school's key objectives are.

DAVIDSON: Our whole theme for the Graduate School of Banking here at UW-Madison is educating professionals, creating leaders. We have heard from so many alumni when we go out to different trade shows and banker events and meetings that attending GSB was one of the best things they ever did in their career and it really launched them into that next level, that senior management level at their bank, and if it hadn't been for GSB, they wouldn't be in the position they are now. So that is really what we are trying to accomplish, and that is really what we are accomplishing every time we have a session and a new graduating class is we are creating those future leaders who are going to be running the banks.

FIELD: So, Kirby, give us a sense of where your student primarily are coming from, and then what are they doing when they leave the school?

DAVIDSON: We have had students that have come to the Graduate School of Banking from all 50 states. In addition to that, we have this past year, out of 650 students that attended one of the residential programs we held in August at Madison, 45 were from countries around the world; Egypt, Mongolia, St. Lucia, Antigua, Barbados, they have heard about GSB and what we are doing at the University of Wisconsin-Madison, and we are becoming quickly the school of choice for a lot of international bankers as well.

Domestically, most of our bankers that attend -- most by being two-thirds of the students that attend GSB -- come from community banks, usually with asset sizes of less than $500 million. That makes up two-thirds of our student population. The other third is comprised of a little bit larger banks, and about 15 percent are bankers from larger institutions over $5 billion and above, and we also get some regulators. But we really get a good mix of bankers from all across the country, and it has been a real bonus to have so many international students participating in the program as well.

FIELD: Now you say when they are done with the program, they are going right into senior management and having some success there?

DAVIDSON: Yeah, you know sometimes it is a work in progress, and a lot of them when they are attending GSB, they are in middle management, and the bank is sending them and paying their tuition, and we provide a lot of hands-on tools not only for the bankers, but it is all customized for the financial institution that is sending that student. So when they do projects, they are working on their own financial institution and they are doing a bank performance analysis on their own financial institution, they are doing a credit risk profile analysis on their own financial institution. So when they come back, they have analyzed their institution, and a lot of times the bank is adopting these changes that the students are putting forth, so there is a return on investment not only for the banker, but for the financial institution that is sending that student.

So, yes, when they are completed with the program they are all ready to step into those leadership positions at the bank.

FIELD: Now it strikes me, Kirby, that you have been there for just about a year now, that has got to be the most interesting year for any President in the tenure of your school.

DAVIDSON: Yeah, it has been an interesting year. I have actually been with GSB for 10, but I took over the helm a year ago, so it was actually October 1 of last year. So a lot has transpired in that time, and I would say that one thing that we take a lot of pride on -- and I am always pushing the staff around here and they have all adopted this too -- is that we want to be the innovator and not the imitator.

We want to make sure that our curriculum is keeping pace with what is going on out in the real word, because 90 percent of our faculty are either current bankers or former bankers who are now consultants in the industry, so they bring a lot of practical and real-world solutions to the curriculum, and so when all of this was taking place, our academic committee was getting together and a lot of our curriculum areas, as I mentioned, even in the credit risk management area, that curriculum was updated. In the loan portfolio management, that curriculum was updated, and in addition, we have added some new topics this year that dealt with IT risk assessment for the banks and for their vendors that they work with and also trying to attract the new generation of customers, these younger generations, the Generation X and Generation Y, the future customers. So we are teaching bankers now about new ways, new approaches, new medias to reach this younger audience so it is critical to us that our curriculum needs to be keeping pace with all these changes that are going on.

FIELD: Well, you mentioned that you have been there a year now, or rather 10 years now, and banking certainly has changed so much in the past decade with new technology as well as increased threats, how would you say that banking education has evolved to keep pace with the technology and the threat landscape?

DAVIDSON: Well, I would say, and I again I kind of go back to being the innovator, we want to be the innovator, especially in the education arena. We were one of the first graduate schools of banking that started offering distance education, and that started 10 years ago when I came on board, and we started out slowly where we were just offering a couple programs, maybe two or three webcasts every year, and now we are doing hundreds of webcasts every year.

You know, the convenience aspect and the efficient use of the training dollars, I mean that is all there and so adopting to the new technologies is critical and our bank management simulation program is a customized tool that the students use when the come here to Madison, and they are in teams and they will compete, just like banks compete in their communities.

But it is a hands-on learning tool where they are putting in real time assumptions and real time dollars and they are looking at different scenarios and there are different challenges with the economy and they see how their bank does in a bank simulation environment. It is a great learning tool, but I think you just really need to provide those hands-on practical learning tools, and it can't be just teaching theory. That is not going to cut it anymore; you have got to be progressive, and you have got to provide those hands-on learning tools.

FIELD: And of course practical. in today's marketplace you have got banks whose business customers are being victimized by online hackers, you have got institutions that are having to call their customers because of the Heartland breach or Hannaford or TJX. how are you able to introduce this type of threat landscape to your education?

DAVIDSON: We started doing some online seminars around the very topics you talked about two to three years ago. We found a really good instructor that has worked very closely with us, and he does a lot in that area and he also does a lot in preparedness type training. like when the H1N1 virus came out, we collaboratively put together a program that looked at the implications of the financial industry, even with the H1N1 virus.

But these other computer viruses that are going around, that is why we introduced into the curriculum this year a course on information technology risk management, not only for the bank, but even working with our vendors because there is a lot of shared information that our vendors use, like a credit card processor, and if you are sharing customer information you need to protect it and have it private and then also make sure that a worm or a virus isn't going to get into that. So it was really a very well received course and again, it just is keeping up with the times of what we need to be teaching the financial industry.

FIELD: Sure. Now you talked about helping your students to be able to attract new deposits, a younger generation of banking customers, how do you see that banking education is going to have to continue to evolve to keep pace with the times and the demands of the customer base that is up and coming?

DAVIDSON: I am really pleased that GSB got involved in distance education 10 years ago. We have seen growth rates of 16 to 17 percent annually in the distance education programs that we are delivering, and I think that there is even going to be more of that going forward. I think we have some of our own residential school that people come and attend. It is getting harder and harder for students to get away from the bank because they are full-time bankers that have typically been in the industry for five to 10 years. They have a lot of work to do at their own bank in getting away to sometimes come to these programs, and that can sometimes present a challenge, so we are looking at new delivery options that could work into the students schedules and at the same time be just as effective in training.

We also are doing more partnerships and alliances. We work with about 30 state bankers associations around the country, and they help to co-sponsor our programs for their members and that way we are more of a supplier where we can sup0ply some of these professional education programs to these partners and the state associations and get the word out there and get more programming out there nationwide as opposed to just here in the Midwest.

So I think partnerships and working together collaboratively on programs is going to be key to not only putting together a more solid program, but having the tools and the deliverables and being able to have the mediums to get it out there to a vast audience all at one time rather than scattered around in 30 different locations.

FIELD: Well, see I think you would be smart to open up branch schools in St. Lucia and Antigua and send your students there.

DAVIDSON: [laughter.] Yeah, yeah wouldn't that be quite an interview for today if I was on the beach in Antigua, but that's not the case. I am in Madison, Wisconsin.

FIELD: Now last question for you, Kirby; for someone starting a career in banking today, what advice would you give to them?

DAVIDSON: Well, to be honest what I would tell any banker that is coming into the industry right now, there is going to be a lot of opportunity. We have seen down cycles in the banking industry before. Whether it was bank in the 80's, even back into the late 90's and early 2000's, I mean there have been little bubbles here and there and I mean this one was pretty dramatic; I mean obviously what we have gone through.

But there are a lot of bankers that now are in banking that will live through this to tell this story, and I would just encourage anyone: you just have to get out there and give it all you've got. You have to be passionate for what you do as a banker and realize, just like I realized the impact we are having on the students lives that are coming here and the credit that they give to GSB in the success of their careers -- have that same passion for their customers in knowing that the services that they are providing and the tools and the needs assessments and helping them reach their financial goals. Have a lot of passion for that because they are really helping people and changing lives. And that is where professional education can help set themselves apart; you just don't want to be a typical banker, you want to set yourself apart and make sure you are always learning and always at the front of the pack leading the way.

FIELD: That's well said. Kirby, I appreciate your time and your insight today.

DAVIDSON: My pleasure. Thanks again for including me and have a great day.

FIELD: We have been talking with Kirby Davidson, President and CEO for the Graduate School of Banking at the University of Wisconsin-Madison.

For Information Security Media Group, I'm Tom Field. Thank you very much.