Blockchain & Cryptocurrency , Cryptocurrency Fraud , Fraud Management & Cybercrime
Embattled FTX Founder Sam Bankman-Fried Arrested in Bahamas
Crypto Exchange Ex-CEO Accused by US of 'Orchestrating a Massive, Years-Long Fraud'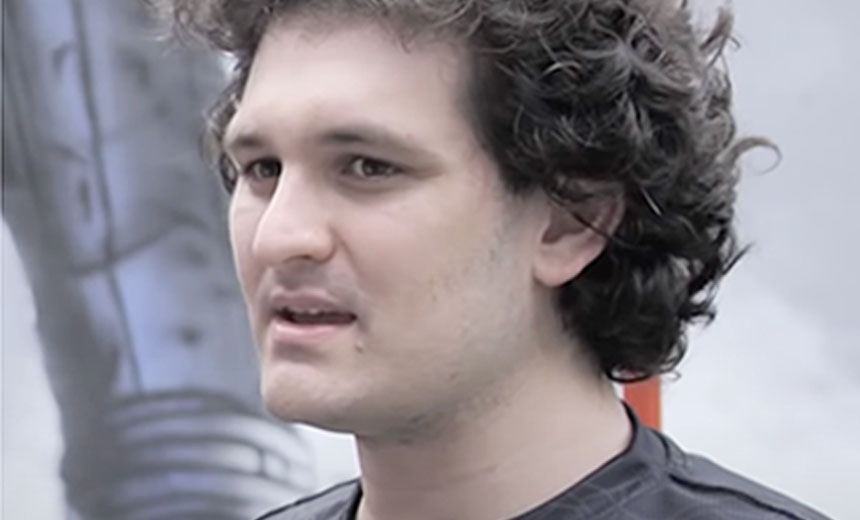 Update Dec. 13, 2022, 15:29 UTC: U.S. federal prosecutors unsealed their eight-count indictment against Sam Bankman-Fried this morning. He faces charges of conspiracy to commit wire fraud on customers, wire fraud on customers, conspiracy to commit wire fraud on lenders, wire fraud on lenders, conspiracy to commit commodities fraud, conspiracy to commit securities fraud, conspiracy to commit money laundering, and conspiracy to defraud the United States and violate campaign finance laws. The indictment is here.
See Also: OnDemand | Understanding Human Behavior: Tackling Retail's ATO & Fraud Prevention Challenge
The founder of bankrupt cryptocurrency exchange FTX has been arrested by police in the Bahamas.
Sam Bankman-Fried, 30, was arrested Monday evening at his apartment by officers of the Royal Bahamas Police Force after U.S. federal prosecutors filed a sealed indictment against him. He faces potential extradition to the U.S., where he's also the focus of a complaint filed Tuesday by the U.S. Securities and Exchange Commission.
Police said Bankman-Fried, who is a U.S. citizen, was arrested on suspicion of violating multiple U.S. financial laws, "which are also offenses against laws of the Commonwealth of the Bahamas." He is the former CEO of FTX, a defunct, Bahamas-based cryptocurrency exchange that Bankman-Fried at one point claimed was worth $5.5 billion.
The Bahamian attorney general, Sen. Ryan Pinder, said Bankman-Fried's arrest "followed receipt of formal notification from the United States that it has filed criminal charges … and is likely to request his extradition."
The U.S. attorney for the Southern District of New York, Damian Williams, confirmed that a sealed indictment has been filed against the suspect by the U.S. government. "We expect to move to unseal the indictment in the morning and will have more to say at that time," Williams tweeted Monday night.
The SEC complaint filed Tuesday in U.S. District Court for the Southern District of New York, seeking a trial by jury, accuses Bankman-Fried of "orchestrating a massive, years-long fraud, diverting billions of dollars of the trading platform's customer funds for his own personal benefit and to help grow his crypto empire," from at least May 2019 through last month.
"We allege that Sam Bankman-Fried built a house of cards on a foundation of deception while telling investors that it was one of the safest buildings in crypto," said SEC Chair Gary Gensler.
Bankman-Fried is due to be arraigned Tuesday in Nassau, which is the capital of the Bahamas and also its largest city.
The Bahamian attorney general promised that when an extradition request gets received, "the Bahamas intends to process it promptly, pursuant to Bahamian law and its treaty obligations with the United States."
Bahamian Prime Minister Philip Davis said his country will also continue its own "regulatory and criminal" probe of FTX.
"The Bahamas and the United States have a shared interest in holding accountable all individuals associated with FTX who may have betrayed the public trust and broken the law," he said.
A Statement from the Royal Bahamas Police Force on the arrest of Samual Benjamin Bankman-Fried.

Police wish to inform that 30-year-old SAMUEL BENJAMIN BANKMAN-FRIED of California, U.S.A, has been arrested. pic.twitter.com/Mr85S2fzcN— Latrae L. Rahming (DOC) (@latraelrahming) December 13, 2022
Bankman-Fried resigned from FTX on Nov. 11, just before the company's board of directors announced it was appointing Enron bankruptcy veteran John Ray as CEO, and that the company was beginning Chapter 11 bankruptcy proceedings.
Since then, Bankman-Fried has been on a charm offensive, pledging in a Nov. 16 tweet that he would attempt to "raise liquidity, make customers whole and restart." He then claimed that the exchange still had $9 billion in assets.
Bankman-Fried had been due to testify Tuesday before the U.S. House Financial Services Committee about the collapse of FTX. But rather than appear in person, as requested, Bankman-Fried said he would only agree to appear virtually.
House Financial Services Committee Chairwoman Maxine Waters, D-Calif., said Monday she was "surprised" Bankman-Fried had been arrested the night before he was due to testify.
"Although Mr. Bankman-Fried must be held accountable, the American public deserves to hear directly from Mr. Bankman-Fried about the actions that have harmed over 1 million people and wiped out the hard-earned life savings of so many," she said. "The public has been waiting eagerly to get these answers under oath before Congress, and the timing of this arrest denies the public this opportunity."
Waters said the Tuesday hearing will continue. "While I am disappointed that we will not be able to hear from Mr. Bankman-Fried tomorrow, we remain committed to getting to the bottom of what happened," she said.
Due to testify Tuesday is FTX's current CEO, John Ray, who is overseeing the company's liquidation. "Never in my career have I seen such a complete failure of corporate controls and such a complete absence of trustworthy financial information as occurred here," Ray wrote last month in a court filing.
After FTX filed for bankruptcy, Ray reported that the value of cryptocurrency then being held by the company was worth only $659,000.