Audit , Device Identification , Encryption & Key Management
Election Security: Protecting Voting Machines from Hacking
Cybersecurity Experts Weigh In on Safeguarding Upcoming Elections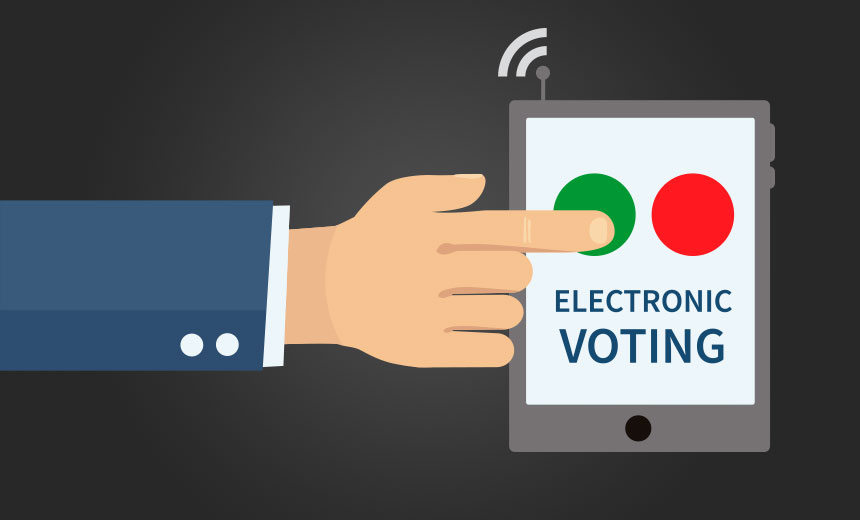 With the general election approaching this spring to constitute the 17th Lok Sabha, cybersecurity leaders say India must be prepared to thwart foreign cyber threats and protect electronic voting machines against hacking by using appropriate security measures, including regular patching and addressing OS vulnerabilities.
See Also: Live Webinar Tomorrow | Get Your Head in the Cloud: Modern Security Challenges & Solutions
An intense debate on the security of EVMs was triggered by a Jan. 21 press conference in London, where U.S.-based self-proclaimed "cyber expert" Syed Shuja, also known as Syed Hyer Ahmed, claimed that the Indian 2014 Lok Sabha general elections were rigged through EVMs.
Shuja claimed that EVMs were hacked in 2014 to receive military-grade frequency signals. This would have require fitting machines with a specialized antenna-like device.
But a number of security experts debunked his claims. For example, Pune-based Ajit Hatti, a white hat hacker and adviser to the Indian armed forces on cryptology, said Shuja's assertions have no credibility.
"Shuja's claims about the rigging of the 2014 elections and hacking of EVMs ... using a military grade frequency modulator seems to be absurd," Hatti said in an interview with Newslaundry. "EVMs have no wireless interfaces, so you can't do anything without physically accessing the EVM. There is no known way to tamper data using any kind of transponder whatsoever in the absence of wireless interfaces or through interference. An electronic device can be installed using electromagnetic impulse, but you can't craft and alter selective data, i.e. vote counts, in favor of any party."
Hatti says Shuja is describing hacking EVMs "through a wireless interface which doesn't exist, through a technique which is unheard of and unverified, and by exploiting an unknown vulnerability which is even remotely and hypothetically not possible. Even if an attack on nationwide EVMs is possible and can be done by an established telecom ... then to intercept those attacks, you need access to similar telecom-like infrastructure, which an individual or a team cannot have at their disposal without state or corporation's support."
Potential Vulnerabilities
Although many security experts in India contend it's impossible to prove the 2014 election was rigged by hacking EVMs, they nevertheless acknowledge that the machines are potentially vulnerable.
Because EVMs are placed in storage between election cycles, they miss out on critical patches and updates, creating a backlog of time-consuming fixes once the next election comes, some security specialists point out.
Naavi Vijayashankar, a cyber law and risk management expert at Naavi Consultants, suggests that the Election Commission should declare EVMs are protected systems under Section 70 of Information Technology Act 2000 and develop a standard operating procedure for accessing the systems so they can be updated.
"Nothing is 'hack proof' and it's absurd for manufacturers to suggest otherwise," says Australian cybersecurity expert Troy Hunt, who runs the free breach notification service, Have I Been Pwned? "Every system has a weakness somewhere or the other."
Dr. Rakesh Goyal, a CERT-In empaneled auditor, also acknowledges that vulnerabilities in the operating systems of election devices could result in tampering with EVMs.
One way to help further ensure the security of EVMs, Goyal says, is continuous patching of software as well as ramping up efforts to detect vulnerabilities in the operating systems.
Pranesh Prakash, a technology law and policy expert, writes in a recent blog: "To make EVMs hack-proof, the Election Commission of India should create separate security procedures for handling of voter verified paper trail systems and EVMs."
Improving Security
Meanwhile, the Election Commission refuted Shuja's claims that EMVs were hacked in 2014 and raised questions about his employment history and security qualifications. And it spelled out steps being taken to improve election security, including the use of new EVMs with enhanced security features.
In a statement, Sunil Arora, chief election commissioner said: "I cannot stop what is said about EVMs, but if there is anything else that we should do, then we are ready to see it. All vehicles carrying EVMs and voter verified paper trail systems [VVPATs] in Lok Sabha elections will be tracked so that the four to five incidents that occurred this time can be avoided in 2019."
Arora was referring to incidents during last year's midterm elections in certain states, including the discovery of one EVM abandoned on a highway and others that were found to be inappropriately located at hotels, police stations and even at the house of a Bharatiya Janata Party Member of the Legislative Assembly.
Sheyphali B. Sharan, additional director general of the Election Commission, tells Information Security Media Group that the Election Commission's Technical Experts Committee has reconfirmed that:
The EVMs are stand-alone machines designed to connect to the computer systems through cables that are exclusively laid for this purposes.
There is no mechanism in EVMs to communicate with any device through wireless communication on any radio frequency.
EVMs are regularly tested for proper functioning under all operating conditions. And they're tested for code authentication and verification.
A.T. Kalghatgi, director of research and development at Bharat Electronics Limited, which manufactures the new EVMs that will be deployed for this year's elections, told The Week: "The new model of EVMs is expected to have much more add-on features that will secure them further. Even if one tries to physically tamper with them, they would stop functioning.
"Even if a person uses high intensity laser, he cannot tamper with them. ... Our R&D team is constantly working on adding more features on EVMs."
An Election Commission spokesperson says India's EVMs "use some of the most sophisticated technological features, like one time programmable microcontrollers, dynamic coding of key codes, date and time stamping of each and every key press, advanced encryption technology and EVM-tracking software to handle EVM logistics, to make the machine 100 percent tamper-proof."
In addition, new model M3 EVMs to be used in this year's elections also have tamper detection and self-diagnostics as added features. And if anyone makes an attempt to access, the machine will become inoperative, the spokesperson says.