Consumer Protection: A Look Ahead
Elizabeth Warren, Regulatory Reform and the Watchdog Agency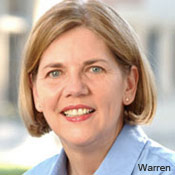 With the naming of Harvard professor Elizabeth Warren as the effective head of the soon-to-be-formed Consumer Financial Protection Bureau, the financial services industry is one step closer to getting its watchdog agency that was the centerpiece of the regulatory reform bill passed in July. Warren, 61, is an attorney and Harvard University law professor who headed the Congressional Oversight Panel created to investigate the Troubled Assets Relief Program.

The newly approved agency, which comes under the Federal Reserve Board, was created to implement and enforce federal consumer financial law to ensure that all consumers have access to markets for consumer financial products and services and that markets for consumer financial products and services are fair, transparent and competitive.

The bureau will have the authority to investigate and enforce violations, issue subpoenas for records and compel testimony, much like the Securities and Exchange Commission and other government agencies. Regulatory changes probably won't be seen at the institution level for at least a year or longer, though the compliance burdens for large and small institutions will increase greatly.

As an assistant to President Barack Obama, Warren will run the new agency without having to go through a sticky Senate confirmation process. She also will serve as a special adviser to Treasury Secretary Timothy Geithner. Because she is an appointee, not a Senate-confirmed director; she can help set up the agency but can't issue rules. A long-time advocate for the creation of the new agency, she is expected to bring on staff to interpret existing laws on consumer lending.
What New Watchdog Will Do
The CFPB will serve as a watchdog over compliance with consumer protection laws and regulations by banks and non-banks. It will have independent rule-making authority over consumer protection rules.
It also will examine banks with assets exceeding $10 billion for compliance with consumer-protection laws, instead of the bank regulator. Banks with assets of $10 billion or less will continue to be examined by the current bank regulator for compliance.
The first targets of the new agency will be mortgage disclosures and credit cards. Last week, Warren and Geithner met with consumer advocates and mortgage experts to begin work on merging mortgage disclosure requirements of the Real Estate Settlement Procedures Act and the Truth in Lending Act. Warren also says she will look into credit card agreements, as they are hard to read and not clear on rules.
Banks can expect more scrutiny over compliance with consumer protection laws, says Sai Huda, chairman and CEO of Compliance Coach, a compliance solutions provider. For large banks, examinations will focus on unfair or deceptive acts or practices, also known simply as UDAPs. For smaller institutions, more regulatory scrutiny can be expected where compliance with consumer-protection rules are concerned.
Potential Regulatory Burden 'Unclear'
Now that Warren has been selected to head the agency, the real work begins. Christie Sciacca, a former Federal Deposit Insurance Corp. executive familiar with the inner workings of regulatory agencies, says he sees an immediate effect underway already, with a more rigorous examination and supervisory process for consumer issues happening.
Gerald Blanchard, a partner at the Atlanta law firm BryanCave, says it will take some time for the full implications of the new agency to be seen. "It will not be issuing regulations for sometime to come, and thus the potential regulatory burden is still unclear," Blanchard says. It may take from 18 to 24 months for the agency to be fully staffed and a host of regulations to be written, Sciacca says.
Joe Lynyak, a partner at the law and consulting firm Venable, says community banks will feel the impact of this agency more than others. The estimated regulatory burden of complying with the new guidance and laws that will come out of this agency will stagger many smaller banks and create a thicker layer of compliance requirements for them, despite the fact that they are already working under heavy compliance requirements, Lynyak says. "It's going to be a real challenge for them," he says.
The industry is getting its dose of reality with this new agency. "Clearly, Congress wasn't happy how consumer protections were dealt with up until now, and now the agency is here and it will be a force to be reckoned with," Sciacca says.
Who will staff the new agency? Sciacca sees a combination of things, with the rank and file staff coming from other agencies, including the FDIC, Federal Reserve, Treasury and the Office of the Comptroller of the Currency. Most of the senior policy staff will be brought in by Warren and her hires, he says.
Venable's Lynyak predicts that the staffing in technical areas will take more time, only because of the lack of qualified agency personnel to address the evolving technologies used in banking. He questions whether they'll be able to hire people qualified to assess technical requirement for online transactions. "You get a little bit into the technical side of areas like mobile banking, payments or transactions, and you're out in the weeds," he says. "I'm not sure they'll be able to get the best and brightest minds to staff the agency to be able to write guidance that is clear and unambiguous about technical issues."
CFPB: Good or Bad For Industry?
The changes enacted by the CFPB will have immediate costs on the consumer, including higher costs for services. But Sciacca says consumers will absorb the fees, since most are cutting out debt. "By the time we get back to a normal situation, depending on what 'normal' is, we will be operating under a different paradigm, but we don't know what that paradigm will be," Sciacca says.
Some banks are taking a wait-and-see approach as the agency forms. "Like many things that are enacted, we will first see what changes it makes," says Jonathan Miskell, internal auditor and security officer at First State Bancshares, an institution with $300 million in assets in Blakely, Ga. "I'm going to keep up with industry chatter on it."
BryanCave's Blanchard is unaware of anyone who sees the new agency as a good thing for banks in general. "Traditional banks are already subject to an amazing amount of consumer regulations," he says, pointing to the fact that much of the abusive transactions involving consumer mortgages "did not involve banks at all but, rather, lightly regulated mortgage brokers."
With the CFPB, Lynyak says, banks "could potentially be facing an enforcer, not just a regulator. It will have enforcement powers similar to the Federal Trade Commission." If that is the direction the CFPB takes, Lynyak asks, "Will the banking regulators need to take a more aggressive enforcement stance over the banks they regulate?"
Who Will Be First Target?
The CFPB, Lynyak predicts, may "come out of the box with some high-level enforcement, to show they are a rough-and-tough type of agency."
Lynyak says small banks won't be an immediate target. "Non-banks will," he says, "including payday-loan companies, pawn brokers, non-affiliated non-bank mortgage lenders -- they will find quickly they're out of bounds with the CFPB." All the CFBP would have to find to pull back on these companies would be UDAPs. "This alone will have a lot of people surprised that their business practices are coming under scrutiny," he says.
With fewer than 8,000 banks in the United States, Lynyak sees the regulatory changes creating further consolidation and mergers. "It's hard to turn a giant ocean liner in the middle of the ocean, but on the edge we're starting to see change of direction," he says. "Down the line, expect to have an entirely different system."