Access Management , Digital Identity , Endpoint Protection Platforms (EPP)
Palo Alto Networks SASE Day: A Preview
Security Experts Zero in on Securing the Hybrid Workforce Using a SASE Approach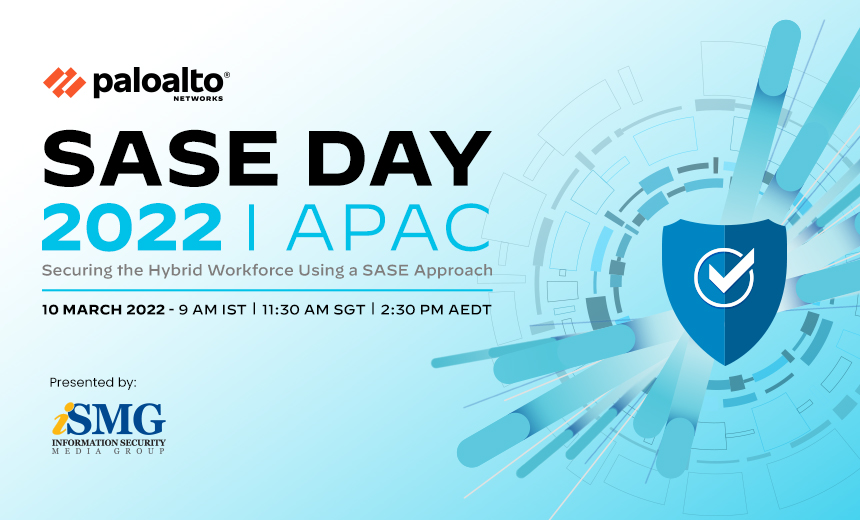 Where are you to likely gain insights from security experts on how SASE can help you achieve better visibility into IT systems, secure your unmanaged applications and devices and consolidate your investments as you move to a remote workforce environment? The answer is SASE Day.
See Also: Fog of War | How the Ukraine Conflict Transformed the Cyber Threat Landscape
On March 10, 2022, Information Security Media Group will present SASE Day 2022, in collaboration with Palo Alto Networks, with topics exclusively crafted by the experts on SASE and the future of networking and security to address critical issues facing CISOs and their security teams.
"The event will delve into some critical aspects of what CISOs consider the biggest roadblock to implementing SASE and how they can demonstrate SASE's value."
This interactive, virtual, two-hour event will dive into the current hybrid work threat landscape, offer practical challenges and solutions and feature technical discussions with customers who have been early adopters of SASE, who will present use cases, followed by a live Q&A.
As many organizations aren't necessarily aligned for SASE, the event will include in-depth discussions about the need for political reorganization and realignment of the responsibilities on both the networking and security sides.
Critical Concerns
The event will delve into some critical aspects of what CISOs consider the biggest roadblock to implementing SASE and how they can demonstrate SASE's value. Experts will define the SASE operating model and discuss how it supports a remote workforce.
Thought leaders will offer lessons on leveraging the SASE model in various sectors to support digital transformation and enterprise security governance.
Some security experts say the fact that organizations lack visibility into sensitive data and awareness of threats hinders SASE adoption. They also say that too many enterprises lack an all-encompassing security strategy and have separate security and networking teams that don't share information.
At the SASE Day event, security leaders and subject matter experts will share new approaches to making the SASE model work in the new environment.
Power-Packed Speaker Sessions
This ISMG-sponsored event will include experts who have deployed the SASE model as well as those who are on the SASE journey.
Keynote Address
SASE Day will begin with a keynote address by Kumar Ramachandran - senior vice president of Palo Alto Networks and founder and former CEO of CloudGenix - on "The Past, Present and Future of SASE." Ramachandran will discuss the origins of SASE, going back to the industry pioneers whose strategic vision and technical skill enabled them to solve the future challenges of an increasingly digital and hybrid workforce.
Plenary Session
The plenary session will be presented by Sid Deshpande, field CTO, JAPAC for Palo Alto Networks, on "Understanding Gartner's Vision of SASE and How It Aligns with Palo Alto's Strategic Road Map for SASE." Deshpande will demystify the model by walking through Gartner's strategic road map for SASE convergence and will share practical steps to build a migration plan for SASE adoption.
Technology Session
The technology session will be presented by Vicky Ray, principal, Unit 42, JAPAC, Palo Alto Networks, on "How Hybrid Work Has Changed the Threat Landscape." Ray will share practical insights on the changing threat landscape and how attackers have adjusted their tactics to take advantage of changes in human behavior due to the rise of hybrid work. She will also provide practical guidance on protecting your organization.
CXO Panel Discussion
The CXO panel discussion on "The Keys to Effectively Implementing SASE" will be moderated by Peter Molloy, SASE leader, JAPAC for Palo Alto Networks. During the discussion, security leaders will describe how they took a SASE approach to resolve their cybersecurity concerns and outline the factors driving SASE adoption.
Solutions Overview
This session on "Securing the Hybrid Workforce with Prisma SASE," presented by Nick Sampson, SASE architect, JAPAC for Palo Alto Networks, will give practitioners insight into integrating SASE with solutions. Sampson will describe how Palo Networks' Prisma SASE integrates all other technologies and security capabilities into a single, cloud-delivered service.
End-of-Day Takeaways
SASE Day will conclude with a discussion of "Actionable Steps to SASE Adoption." A SASE expert, Sid Deshpande, field CTO, Palo Alto Networks, and an ISMG moderator, Geetha Nandikotkur, managing editor - Asia & Middle East, will review the critical elements of SASE and highlight some key takeaways for the practitioners.
For more information about SASE Day, please visit the registration page.