Artificial Intelligence & Machine Learning , Leadership & Executive Communication , Next-Generation Technologies & Secure Development
The New Role of Artificial Intelligence in Cybersecurity
CISO Bijender Mishra Explains How It Can Protect Your Business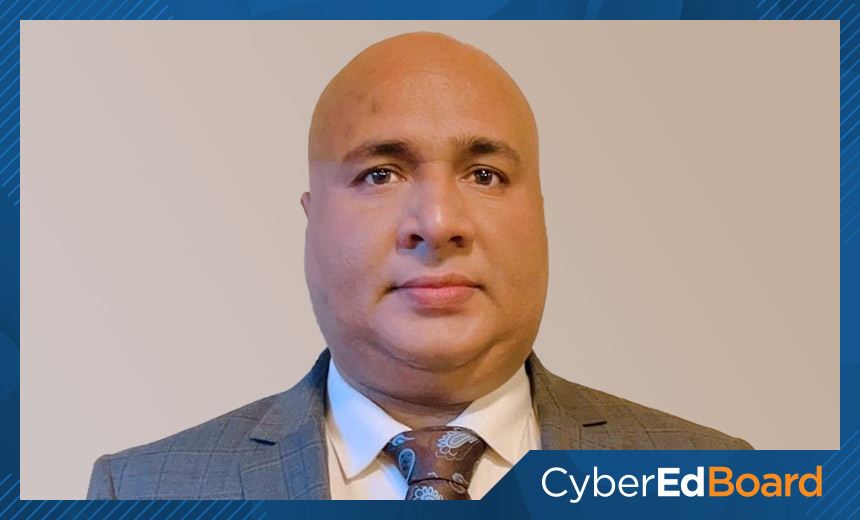 Cyberattacks have become more pervasive and diverse due to ubiquitous connected computers, cloud and mobile technologies. Volumes of connected devices provide cybercriminals with plenty of access points to attack, and the access points lack adequate security. The rise of IoT has caused an ever-widening wave of cyberattacks, and cyber fraud is often in the news.
See Also: Live Webinar | How To Meet Your Zero Trust Goals Through Advanced Endpoint Strategies
Why We Need AI-Based Cybersecurity
Traditional cybersecurity methods require tremendous human efforts to identify threats and extract their properties and encode them into software that can detect the threats. But humans can no longer scale to adequately protect the dynamic enterprise attack surface, and conventional methods are not as sophisticated as present-day cyberattacks.
In recent years, AI has emerged as required technology for augmenting the efforts of human information security teams. AI allows cybersecurity teams to form powerful human-machine partnerships that push the boundaries of our knowledge and drive cybersecurity to be greater than the sum of its parts.
AI-based cybersecurity systems formulate vital prioritization decisions based not merely on what could be used to attack your systems but on what is most likely to be used to attack them.
AI and machine learning can help defenders keep up to date on cybercriminals, automate threat detection, and respond more effectively than conventional software-driven or manual techniques.
These technologies continually learn and improve, drawing data from past and present experiences to pinpoint new varieties of attacks that can occur today or tomorrow.
AI-based cybersecurity systems can provide the latest knowledge of global as well as industry-specific dangers to better formulate vital prioritization decisions based not merely on what could be used to attack your systems but on what is most likely to be used to attack them.
Applications of AI in Cybersecurity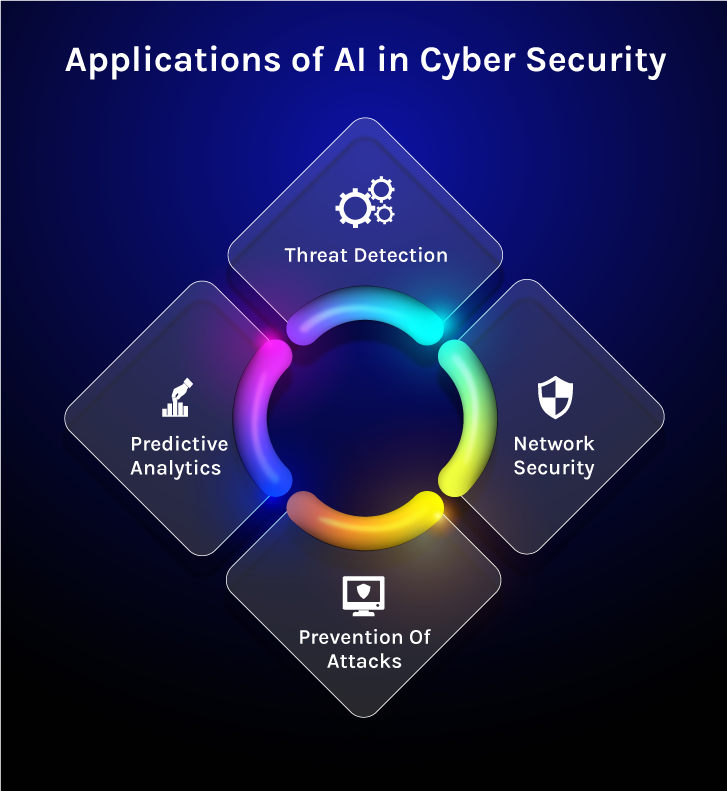 Source: Bijender Mishra
AI applications in cybersecurity can be broken down into the following categories:
Threat Detection
AI can identify and prioritize risk. Using AI software to detect threats is not new, as most cybersecurity firms deployed AI algorithms to automate investigation and identify indicators of attacks. But now, by using sophisticated algorithms, AI systems are being trained to detect malware, run pattern recognition, and detect even the minutest behaviors of malware or ransomware attacks before they enter the system. Real-time detection of deviations and change in behavior helps organizations to respond faster and more intelligently.
Network Security
AI-enabled software is used at the network level to ensure better network security. As AI tools can read and identify patterns to detect hundreds of objects, including files, IP addresses, links to identity theft, and large amounts of data. AI is faster than human detection, as humans cannot scan millions of sites and addresses, and real-time detection and automated processes help companies respond faster and more efficiently.
AI also improves brand protection and trust in the organization's security systems and processes and increases staff satisfaction by allowing cybersecurity professionals to focus on high-level activities rather than time-consuming, manual operations.
Prevention of Attacks
Businesses can use AI to reduce the risk of cyberattacks. Using traditional methods, it can take days or even months to find a breach and take action to respond. But AI algorithms process large amounts of data per second, which is not possible for humans, and AI is widely used in anomaly detection.
AI and machine learning can swiftly analyze millions of datasets and track down a wide variety of cyberthreats - from malware menaces to shady behavior that might result in a phishing attack. Cybersecurity professionals can act on those threats to reduce breach risk and improve security posture.
Predictive Analytics
AI allows for superior predictive intelligence with natural language processing, which curates data on its own by scraping through articles, news and studies on cyberthreats. This can provide intelligence about new anomalies, cyberattacks and prevention strategies. After all, cybercriminals follow trends too, so what's popular with them changes constantly.
AI can help analyze user behavior. With this capability, algorithms can learn user behavior and create patterns about usage, timing, and platforms. These behaviors include login times, IP address, typing and scrolling patterns, and times. AI-powered tools constantly monitor real-time data and can quickly detect errors in data or behavior, reducing the possibilities of potential damage.
CyberEdBoard is ISMG's premier members-only community of seniormost executives and thought leaders in the fields of security, risk, privacy and IT. CyberEdBoard provides executives with a powerful, peer-driven collaborative ecosystem, private meetings and a library of resources to address complex challenges shared by thousands of CISOs and senior security leaders located in 65 different countries worldwide.
Join the Community - CyberEdBoard.io.
Bijender Mishra is CISO at Alkem Laboratories Ltd., based in Mumbai. He is a seasoned cybersecurity professional with more than 22 years of experience in cyber defense, aligning and integrating technology and cybersecurity with the business road map. He has done many cyber/digital forensic investigations, conducted IT security audits and implemented control and risk and compliance measures and has proficiency in information risk management, disaster recovery and business continuity planning. Mishra has worked on three continents and managed the cybersecurity portfolios of more than 35 countries and is the author of the book "Cybersecurity: Be aware! Connect with care!"