Kundra Encouraged by Private-Sector Cloud Efforts for Government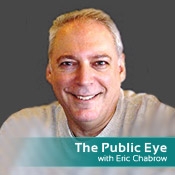 As the government's champion in chief of cloud computing, Federal Chief Information Officer Vivek Kundra says he's heartened by private-sector efforts to develop cloud computing services for government.
From his fourth-floor office in the Eisenhower Executive Office Building, literally a stone's throw away from the White House West Wing - Kundra said in an interview with GovInfoSecurity.com:
"What's been encouraging is companies like Microsoft and Google have started building solutions that they're calling the .gov cloud. My understanding is that they're clearing people, they're making sure it's secure, it meets the requirements that are outlined in FISMA (Federal Information Security Management Act).
"And we're also seeing venture capitalists looking at this space in terms of cybersecurity to figure out what are the opportunities there. What are there about IPv6 (next generation of Internet protocol), and figuring out: could we think of a new approach to cybersecurity?
"My view is that the old world approach of citadel, where you can put a bunch of firewalls and hope your entire enterprise is secure, won't fly. We got to figure out how we have security at the data-element level, data at rest, data in motion. How do we make sure we're creating an environment where these vendors from a cloud-computing perspective and some of the game-changing technologies approach it from a data-element level?"
Cloud computing -- employing an Internet platform -- allows computers and other devices access to applications, data and storage on demand.
Kundra recognizes the difficulty of securing cloud computing, and doesn't expect any quick solutions that would allow for immediate, widespread use of cloud computing for federal agencies. Said Kundra:
"The U.S. government's shift toward cloud computing is not a one-year journey; this is a decade-long journey."
Kundra named the three biggest issues that must be addressed by industry before the government implements a comprehensive cloud computing program: security, data portability and interoperability.
Because secure cloud computing is in its nascent stages, Kundra said:
"The government shall not do anything that moves systems or data to an environment where in any way it compromises the privacy of the American people or national security."