Cyberwarfare / Nation-State Attacks , Fraud Management & Cybercrime , Governance & Risk Management
Is India Prepared for Retaliation by Pakistani Hackers?
India Must Be on Guard for Cyberattack After Defacement of Pakistani Websites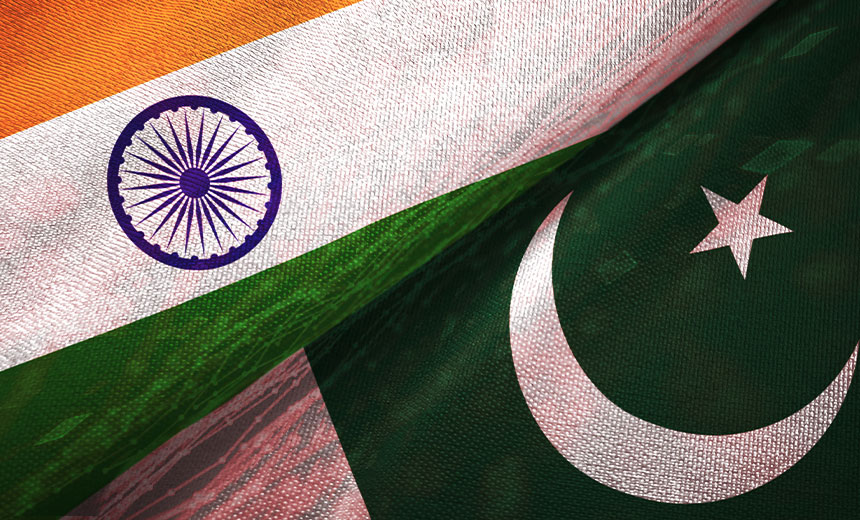 Indian hackers recently defaced more than 200 Pakistani websites, apparently in retaliation for a suicide bomber, allegedly from Pakistan, killing 40 Indian Central Reserve Police Force soldiers in Pulwama on Feb. 14, according to news reports.
See Also: New Priorities for IT Operations: Be Ready for Whatever Comes Next
Now the Indian hacking community must work with the government to prepare for a possible retaliatory cyberattack from Pakistan.
"With elections in the next few months, all eyes will be on India. Critical infrastructures will be particularly vulnerable to cyberattacks."
"With elections in the next few months, all eyes will be on India. Critical infrastructures will be particularly vulnerable to cyberattacks," says Dinesh O. Bareja, COO at the Open Security Alliance. "The government must pull up its socks and work closely with the security community in the country to protect itself from nation-state attacks."
The Attack
The Pakistan-based militant group Jaish-e-Mohammed claimed responsibility for the suicide bomber attack, according news reports. But Pakistan claims it was not involved.
In what apparently was a retaliatory move, the official website of Pakistan's Ministry of Foreign Affairs was defaced Feb. 18. But no particular hacker group has taken responsibility. As a result, the site remained inaccessible for users from Australia, Saudi Arabia, United Kingdom and the Netherlands for a few hours on Feb 18, according to the Times of India.
According to a report in Times Now, the Indian hacker group "Team I Crew" has claimed responsibility for attacks on 200 other sites in Pakistan. An internet search about this group reveals little information about who they are and how long they been active.
The attackers reportedly left a message on defaced Pakistani websites, "We will never forget #14/02/2019".
Some of the hacked websites, according to Times of India, included:
https://sindhforests.gov.pk/op.html;
https://kpsports.gov.pk/op.html;
http://seismic.pmd.gov.pk/op.html;
http://namc.pmd.gov.pk/op.html;
http://rmcpunjab.pmd.gov.pk/FlightsChartFolder/op.html;
http://radar.pmd.gov.pk/islamabad/op.html
Separately, a Twitter account of the Pakistan Defense Command was blocked in India after it got hacked, Times of India reports . No one has claimed responsibility.
When attempting to access the Twitter account from India, this message appeared on Feb 18: "@PDCMDOfficial's account has been withheld in India in response to a legal demand." This message, however, has since been removed.
Defensive Measures
In light of recent events, it's vital for the government of India and all business sectors to work with white hat hackers to identify website vulnerabilities and quickly mitigate them to minimize the impact of potential nation-state cyberattacks.
India also needs to develop a systematic approach to training experts to monitor cyberthreats and send alerts to various departments. The government needs well-trained staff with good data compilation and analytical skills to help in the battle against hackers.
With elections in India just a few months away, the government needs to be on high alert.
Atindranath Das, a Mumbai-based security analyst who works for an information security company, says hackers often take advantage of a common vulnerability and exposures report released on a fortnightly basis by the National Critical Information Infrastructure Protection Center. That report, which lists vulnerabilities in Indian government portals, is based on data provided by a unit of the U.S. Department of Homeland Security.
"NCIIPC wants government websites to take care of these vulnerabilities. Unfortunately, what happens is hackers follow the report more than concerned government officials responsible for website security," Das says.
Another critical issue is third-party risks. Too many vendors rarely update their software with the latest patches.
In a good move, the ministry of defense is building artificial intelligence capabilities to detect cyberthreats. It's also collaborating with other nations on information sharing and technology transfer.
While these are encouraging signs, what is needed is a consistent approach across all government departments. While on the one hand, the defense secretary talks about next-generation warfare, on the other hand, the government websites continue to be vulnerable against basic attacks.
In the meantime, India reportedly launched a second surgical strike on Pakistan; Indian Air Force Mirage-2000 jets crossed the Line of Control (LoC) early on Tuesday morning and destroyed terror camps of Pakistan-based Jaish-e-Mohammed in Balakot, according to News18.
The report says Pakistan Prime Minister Imran Khan on Tuesday directed the nation to remain prepared "for all eventualities" after holding an emergency meeting of the National Security Council.
Against this backdrop, it's time for all branches of the Indian government to collaborate in the fight against cyberattacks.