Incident & Breach Response , Information Sharing , Professional Certifications & Continuous Training
Data Breach Summit Asia 2016: Hot Sessions Preview
Sessions You Cannot Miss, as Security Experts Share Best Strategies to Tackle Breaches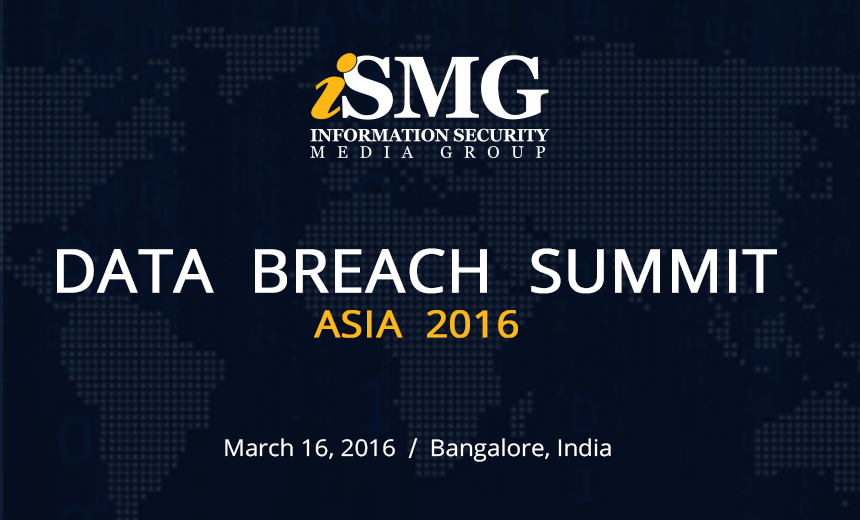 The year 2015 set a benchmark for data breaches globally and proved that any data of any perceived value is at risk of being targeted, as is the control of critical services and infrastructure. Indian enterprises are no exception, and it's time they took these incidents seriously and built strategies to fight them.
See Also: Live Webinar Tomorrow | Get Your Head in the Cloud: Modern Security Challenges & Solutions
After having held a successful Data Breach Summit in Mumbaiin October 2015, ISMG has taken the lead in organizing the Data Breach Summit Asia 2016, being held in Bangalore on Wednesday, March 16, at The Taj West End.
As large-scale data breaches and sophistication of cyber-attacks challenge sectors across geographies, the industry security leaders will discuss potential cyber-threats and breaches and lessons from past incidents
The objectives of this one-day event are honest and simple:
To educate the information security fraternity about how the quest is no longer to defend completely against breaches, but to detect and mitigate them as quickly as possible;
Lessons on preparedness to tackle future breaches and the relevance of a practical risk-based approach;
Share best practices on how to build a resilient infrastructure and a defensive strategy
Vital Sessions You Cannot Miss
ISMG has brought in an eminent line-up of speakers from across the industry, as well as subject matter experts from technology providers, each bringing their own unique and real-world perspectives.
As large-scale data breaches and sophistication of cyber-attacks challenge sectors across geographies, these industry leaders will discuss potential cyber-threats and breaches and lessons from past incidents.
Some key concerns the summit will focus on are:
Challenges in managing data breaches and finding the missing links;
How to survive attacks and thrive in the face of them, given that these threats aren't going away;
How the security industry is transforming, owing to new pressures being applied to victim organizations;
Moving beyond the traditional approach and getting prepared and secure against breaches;
How to convert raw information into actionable intelligence operationally in the current context;
Where does India stand in securing critical infrastructure, and how do CISOs need to respond?
In store for participants are thought-provoking keynotes, exclusive sessions by renowned security experts, panel discussions, spotlight sessions and other exciting networking opportunities.
The day's session begins with an insightful keynote by Dr. A.S. Ramasastri , Director, IDRBT, for an overview of the different elements that go into the management of a data breach. Thereon, prominent and esteemed thought leaders and subject matter experts will identify the key risks and mitigation steps to defend and respond against breaches.
As one of the popular technologies in security circles last year has been threat intelligence feeds, the challenge for most organizations has been to be able to successfully operationalize it in the context of specific business risks. It is critical to attend the spotlight session by Shree Parthasarathy, Partner and National Leader for Cyber Risk, Deloitte, on how organizations need to weave threat intelligence into their processes and strategies to start making a difference.
We will conclude the summit with a plenary session on securing payment innovations taking place in the country and strategies to mitigate new and emerging threat vectors by Shivakumar Sriraman, Chief Risk Officer-South Asia, VISA.
Other exclusive sessions by industry stalwarts include:
Lead Your Board from Compliance to Risk-based Security, by Sethu S Raman, Senior Vice President and CRO, Mphasis;
Building Cyber Resilience to Tackle the Rapidly-changing Threat Landscape, Preet Paramjit Singh, Delivery Lead, Special Projects & Cyber Resilience at ESRM, Tata Consultancy Services.
Panel Discussions by security experts addressing topics such as:
Security Critical Infrastructure: Where does India stand? ;
Building Public/Private Partnerships to Respond to Breaches.
One distinctive offering of the event is "Infosec Conversations," a roundtable discussion that makes it possible for participants to take a step ahead and voice their concerns and opinions amongst peers and technology providers. Moreover, the platform is a good networking opportunity for delegates.
With the mission to help prepare information security leaders and professionals, ISMG's summit has the distinction of involving experts from IT, banking, finance, defence, retail, telecom, infrastructure, government, consulting groups with key lessons on tackling cyber breaches and preparing for the worst.
For more, please visit ISMG's event page.
That's my take on the hot sessions at the summit. What's on your mind, and what would you like to see at this and future events?