Aero India 2019: The Cybersecurity Promise
Efforts to Enhance Cyber Defenses Are Encouraging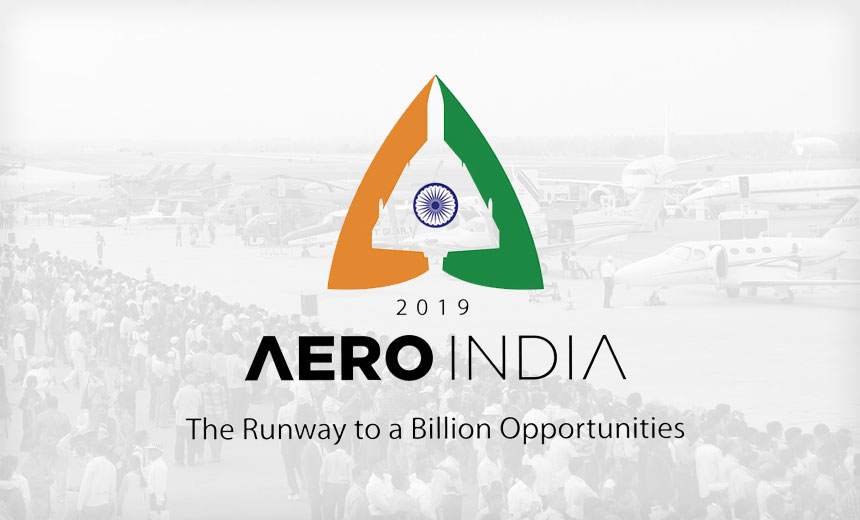 The aerospace exhibition Aero India 2019, which is being hosted by the Ministry of Defense Feb. 20-24 in Bengaluru, for the first time is focusing on showcasing cybersecurity capabilities and associated technologies.
See Also: Live Webinar | A Buyers' Guide: What to Consider When Assessing a CASB
At this year's conference, manufacturers of military and civil aviation products, service providers and start-ups, including cybersecurity product manufacturers, are showcasing their capabilities to help guard against nation-state cyberattacks.
"The defense sector has become more prone to cyberattacks. The ministry's top priority is safeguarding India's cyberspace."
Meanwhile, there are other encouraging signs regarding India's efforts to defend against cyberattacks, including building artificial intelligence capabilities to detect threats as well as state governments collaborating with other nations in information sharing and technology transfer.
Showcasing Capabilities
"There's good impetus on cybersecurity during Aero India 2019 to showcase our abilities in tackling cyber threats, as we must prepare ourselves for next-generation warfare, which will be more and more technology-driven, more and more automated and robotized," Dr. Ajay Kumar, defense secretary, told reporters at a press conference I attended this week.
Nirmala Sitharaman, the minister of defense, who recently inaugurated a cybersecurity framework workshop, said, "The defense sector has become more prone to cyberattacks. The ministry's top priority is safeguarding India's cyberspace. It's necessary for India's workforce in all establishments to fall in line with India's goal to become a dominant force in cyberspace."
Various companies that offer cybersecurity products and services are offering seminars and workshops at Aero India, focusing on a global cyberdefense approach that encompasses monitoring, attack detection, investigation and incident response.
In addition, intelligence agencies and armed forces personnel responsible for security are offering insights on data protection.
An intelligence official told the Times of India: "Everything's going digital now. The amount of data exchanged every day is phenomenal. A lot of military equipment and even systems that delegates use need protection. The thrust is on an enhanced cyber protection strategy."
A Clear Focus
Rajeev Agarwal, head of IT at Hindustan Aeronautics Limited, the Indian state-owned aerospace and defense company, says his organization has a clear focus on cybersecurity, deploying threat modelling solutions and embedding security at the design stage of aircraft.
HAL is collaborating with Israel and others in adopting best cybersecurity practices, he says. And it's also deploying interception technology to make equipment operationally secure.
Similarly, Bharat Electronics Ltd., Bharat Earth Movers Ltd., Electronics Corporation of India Ltd., and state governments are collaborating with other nations in information sharing and technology transfer, Kumar says. Meanwhile, the CEOs of top public sector units, as well as government bodies from India, France, Sweden, Israel, Russia, the United States, Ukraine and Germany, are discussing cybersecurity innovation, the defense secretary says.
A Resilient Cybersecurity Framework
The only way to defend cyberspace, the defense ministry says, is through a resilient cybersecurity framework and the use of robust defence machinery built-in house.
Major General S. G. Vomatkere, in a blog published in the Indian Defense Review, argues that India must build offensive cyber capability.
Meanwhile, the Ministry of Defense has outlined a Cyber Security Framework for the Draft Defense Production policy to facilitate faster assimilation of technology and help create a secure industrial ecosystem in India.
Kumar argues that it's critical to reduce India's dependence on imports of conventional weapons from other nations because relying on those weapons gives India have less control over cybersecurity vulnerabilities.
Another positive step is the defense ministry's decision to establish cybersecurity cells at various levels in India to respond to cyberthreats.
The government has formed a 17-member taskforce to build artificial intelligence capabilities across all sectors, not just defense.
Members include National Cyber Security Coordinator Gulshan Rai; M.V. Gowtama, chairman and CEO of Bharat Electronics Ltd; plus representatives from the Indian Army, Navy, Air Force, Indian Space Research Organization, Atomic Energy Commission, Defense Ministry, Indian Institute of Science-Bengaluru, and Indian Institutes of Technology in Mumbai and Chennai.
Clearly, India is making several good moves toward safeguarding the nation against cyberattacks, going well beyond traditional military defenses.
As Sitharaman noted: "If your space and cyber frontiers are left defenseless, everything you do with manpower is meaningless."