Training & Security Leadership
Beyond Compensation: Decoding the CISO's Role for the Future
IANS Study Indicates Impact of Macroeconomic Conditions on Budgets and Compensation
In a scenario fraught with ever-increasing cyberthreats, CISOs emerge as the guardians of the digital economy. The 2023 Security Organization and Compensation Study by IANS and Artico Search analyzes security organization planning across revenue segments and industries.
See Also: Generative AI: A Game Changer for Security Skills Training
The study goes beyond surface-level examination, providing insights into how organizations are structuring the compensation of their security teams and driving security budgets. Amid challenging macroeconomic growth, cybersecurity budgets had restrained growth. The resulting increase in the average compensation of CISOs was 11%, short of the 14% surge observed in 2022.
The survey was conducted with responses from 609 security professionals, primarily from the finance, healthcare and tech sectors in the U.S. and Canada, unraveling the evolving leadership trends molded by industry nuances and growth trajectories.
According to the report, in the U.S. and Canada, majority of the CISOs earn below $400,000 or above $700,000, with a minority in the middle. Only 6% of respondents reported earnings between $500,000 and $600,000, while 8% fall within the $600,000 to $700,000 range. A significant proportion, 52%, earn below $400,000, and 20% earn salaries surpassing $700,000.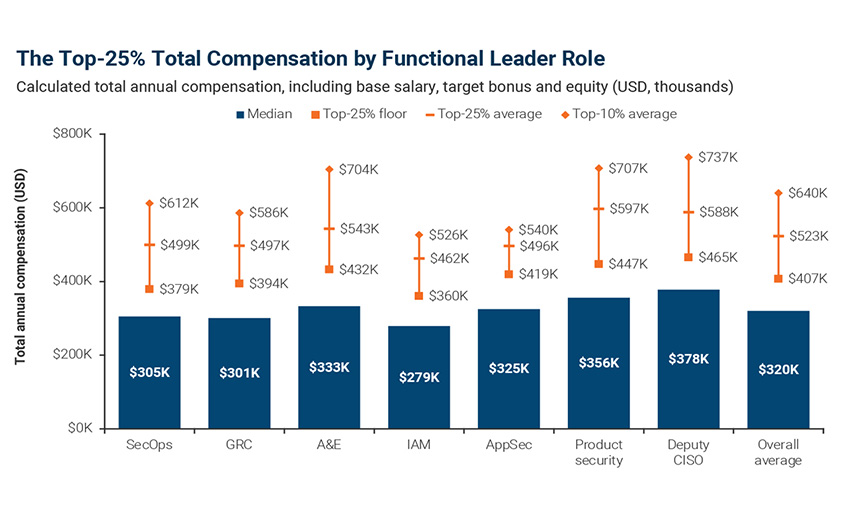 Image: IANS
Economic ebbs and flows have become a focal point in today's context. Nick Kakolowski of IANS attributed this situation to economic uncertainties, inflation and the surge in borrowing costs. With tightened security budgets, the impact echoes on critical domains such as talent recruitment and retention.
The CISO's role is metamorphosing, mirroring the transformations experienced by CFOs and CIOs. Organizations now demand greater participation and attention from their CISOs, recognizing the escalating cyberthreats. Yet, despite their growing influence, only 1 in 5 CISOs commands a spot in the C-suite, portraying a landscape as intricate as it is evolving.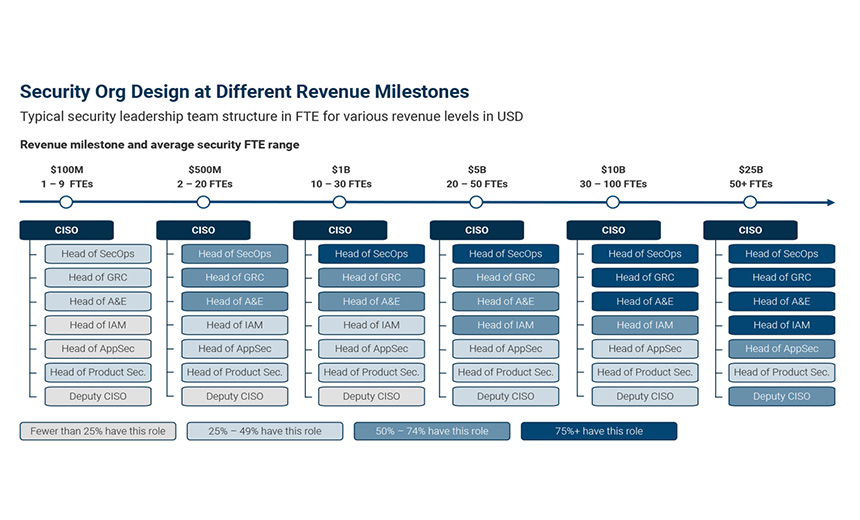 Image: IANS
The study dissects compensation by roles, industries and the seismic impact of equity. Deputy CISOs and leaders in product security command a compensation exceeding the $700,000 threshold. Finance and healthcare sectors lead the compensation race, with financial sector cybersecurity professionals earning $767,000.
Equity compensation is yet another growing trend. CISOs with equity packages earn an additional $135,000 annually, especially in finance, healthcare and manufacturing sectors.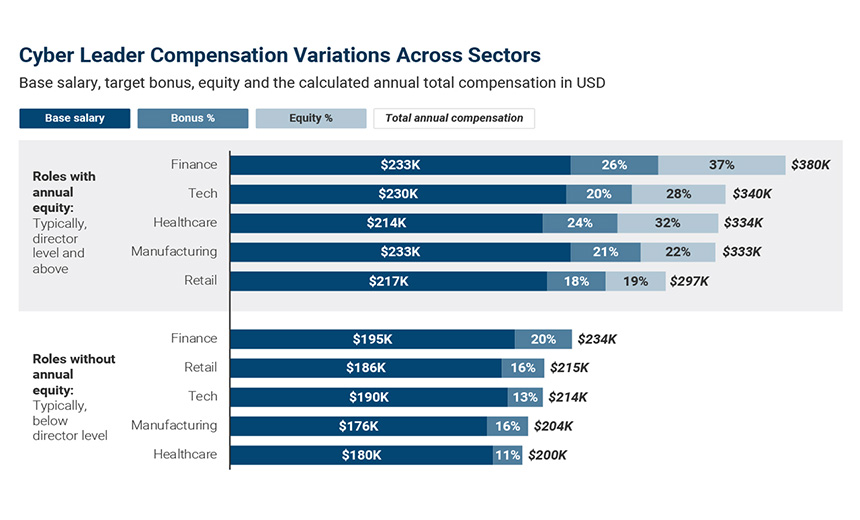 Image: IANS
The key to attracting and retaining cybersecurity talent lies in effective compensation plans. High-performing functional leaders in the top 25% earn $523,000 annually, while the top 10% reach a staggering $640,000. Deputy CISOs, product security chiefs, and architecture and engineering professionals in the top 10% receive compensation exceeding $700,000.
Organizational growth precedes growth in functional leadership. At a revenue of $100 million, 25% to 50% of CISOs typically manage SecOps, GRC, A&E, and product security. However, as companies continue to grow, roles such as the head of SecOps become imperative.
Amid economic turbulence and the ever-evolving corporate landscape, CISOs continue to serve as the primary defenders, safeguarding organizations from cyberthreats and charting strategic paths.