How Organized Crime Uses Banks
Institutions Can Cut Money Supply with Stronger Controls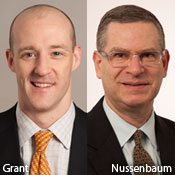 The U.S. Treasury is asking banking institutions to play a more active role in the fight against organized crime. Fraud experts at Ernst & Young share what the Treasury's new demands mean for future investments banks have to make.
Organized crime is a national security issue. At least that's the way the Department of Treasury sees it, and President's Executive Order 13581, signed in July 2011, illustrates the clear connection the Obama administration has drawn between financial services and international crime. [See 4 Crime Rings to Watch .]
Related Content
The Treasury has now officially launched the new sanctions against organized crime outlined in that Order.
"It means that all tools of national power are there," says Brian Grant, who spent 10 years with the Treasury before joining Ernst & Young's fraud investigation and dispute services practice. "The government is very interested in monitoring organized crime threats," he says, "and the financial tool is part of all of that. ... Organized crime has a direct threat to the financial system."
Banks and credit unions now have new demands for anti-money laundering controls - demands that will require more integration between fraud-detection and AML controls, says David Nussenbaum of Ernst & Young, which conducted a study about the increasing role the U.S. government expects financial-services providers to play in the fight against organized crime.
"This is an opportunity for banks to think creatively," says Nussenbaum, who heads E&Y's fraud control advisory and implementation practice. By reviewing suspicious transactions that raise flags on watch-lists, financial institutions can think more broadly about fraud detection and risk mitigation. It's a chance to open communications between compliance and fraud departments.
"These people are not just laundering money," Nussenbaum says. "These people are committing fraud."
Globally, Ernst & Young estimates organized crime nets about $2 trillion annually, and a significant portion is likely laundered through consumer and corporate bank accounts.
"We're learning how astute the organized crime community is," Nussenbaum says. "We have to have similar, and, frankly, better levels of coordination and communication," to stop or even curb fraudulent activity. "It's a perfect example of how communication has to be shared between the AML sanctions area and the fraud area - and that calls for more integration," he adds.
During an exclusive interview with BankInfoSecurity, Grant and Nussenbaum discuss:
What the order means for banks and credit unions;
The four international crime groups sanctioned by the president and the expectation of banking institutions to monitor accounts for activity linked to these groups;
Why AML will become increasingly significant for banking institutions of all sizes.
Grant is a senior manager in Ernst & Young's Fraud Investigation & Dispute Services practice, where he specializes in economic sanctions and anti-money laundering investigations and compliance. Before joining E&Y, he spent more than 10 years with the Department of the Treasury. While at the Treasury, Grant led a team of policy advisors who worked to implement strategies and policies to combat illicit financing. Before joining Treasury, he served as an International Trade Specialist at the U.S. Department of Commerce.
Nussenbaum is a subject matter expert in bank payments and financial crime management technology who has worked for major institutions in the global banking and telecommunications industries. At E&Y, he leads development and technology delivery to support E&Y's financial-services-focused fraud control advisory and implementation practice. Before joining E&Y, Nussenbaum was vice president of the fraud management software business at ACI Worldwide.
Latest Tweets and Mentions