Tablet: A 'Game Changer' for Mobile Banking
Javelin: Consumer Adoption of Tablets Will Prompt Mobile Growth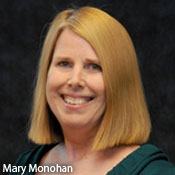 Javelin's Mary Monahan says the mobile tablet will revolutionize banking and payments.Mobile banking and mobile payments are expected to see exponential growth in 2012.
Mary Monahan, managing partner and research director at Javelin who oversaw development of the 2011 Mobile Banking Financial Institution Scorecard, says mobile banking is one area where consumers, across the board, have high satisfaction rates. And that means financial institutions cannot afford not to jump on the mobile-banking bandwagon. "Mobile banking is a must-have now," Monahan says.
Related Content
Luckily, most institutions already have some mobile banking offer. Monahan said 23 of the 25 U.S. institutions included in the survey now offer some sort of mobile banking service - SMS/text, downloadable applications, WAP/browser or a combination of all three, also known as a "triple play."
That's a definite improvement from 2009, when the penetration of mobile banking among that same set of institutions was less than 50 percent.
Now, with the advent of the mobile tablet, mobile banking and mobile payments options are expected to soar. "The tablet is going to be a game changer," Monahan says. "Eight percent of consumers are already on a tablet, which is a huge amount when you consider how long the tablet has been out. ... We think, with the mobile tablet, we will see more mobile banking."
During this interview, Monahan discusses:
Steps banking institutions need to take to educate consumers about mobile security and protections;
How the emergence of P2P payments will open the door for more mobile payments in the near future; and
Why the mobile tablet will level the mobile platform playing field between Microsoft and Apple.
Monahan's banking background includes managerial experience working with growth businesses, strategizing and implementing cross-sectional financial plans to accommodate multiple projective scenarios. As a college educator, Monahan's work focused on current issues in accounting and economics. As a former vice president of commercial banking at Wells Fargo, she marketed and managed tailored financing services to growth companies. Monahan also served as an assistant vice president/manager and loan supervisor during her tenure with Wells.
Latest Tweets and Mentions